Slots with

Anubis
Theme
He was often depicted as a man with the head of a jackal. And other times he was seen as a regular jackal or dog that would accompany the goddess isis. Anubis is the Egyptian God of the Dead & Mummification. References to Anubis can be found in quite a few slot games from this genre. Here you can find our full collection, ever-expanding with new labels each year.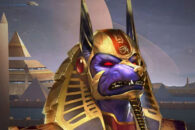 Anubis
Number of Slots: 48
Popularity: 94.03%
Top providers of Anubis slots
The Full Collection of Anubis Slots in Our Land
Anubis is the Greek name for the guardian of the tombs and is associated with death and life after death in the religion of ancient Egypt. Below is our great collection of Anubis themed slots.
The 30 Best Casinos on Our Land for Anubis Slots
These are the hottest online casinos that we have listed on CasinoLandia at the moment. Play your favorite slots at these proven winners for your area.
The Most Popular and Interesting Anubis Slots
Commonly asked questions about Anubis Slots
What are the most popular Anubis-themed slots in 2023?
What are the most popular providers of Anubis Slots?
Which Anubis slots have the highest Return to Player (RTP)?
What are the newest Anubis slots?