Slot Review
Jurassic Party
Our Rating:
88.00% Gold star
Visitor Rating:
0,00% No star
Times Played:
0 Times Played
TOP CHOICE TO PLAY FOR REAL MONEY
Rated 98.13/100%
welcome bonus
1500%/$7,500
35x wagering
OTHER TOP CHOICES FOR REAL MONEY PLAY
Quick Facts
Provider:

Provider

The Slot Provider is none other than the company who developed the slot. Simply click on the name of the provider to find our more about it!
Date Launched:

Date Launched

The date when this slot game was launched.
20/04/2022
Theme:

Theme

Theme is the general genre that the the slot could be classified as. One of the elements that makes slot games appealing, A nicely planned popular theme can potentially skyrocket the popularity of an online slot!
Beach, Jurassic, Party
Jackpot:

Jackpot

A stand-alone or multi-leveled progressive prize pool that a player can win at a given time, simply by spinning the reels.
Special Symbols:

Special Symbols

The special symbols of a slot are part of its mechanic. Elements such as Wilds, Scatters and regular paying symbols come together to form winning combinations.
Bonus, Re-Spins, Scatters, Wilds
Review Summary
A Dinosaur's Favourite Cocktail Is Rex on the Beach!
Slot Information
Return to Player (RTP):

Return to Player (RTP)

The Return to Player is a statistic that aims to show the player's edge over the casino - the higher this number is the better! We review all slots based on this RTP value so click on the percentage on the right to find our more slots with a similar RTP!
96.47%
Volatility/Variance:

Volatility/Variance

Volatility or Variance is meant to describe the winning potential of a slot game: a high volatility will have you win big but no so often, while a low volatility will let you win frequently, but less.
High
Progressive Slot:

Progressive Slot

A progressive slot is a slot that keep on growing its total possible winning pool; usually linked by a network of slots. It is also known as a jackpot.
Slot Type:

Slot Type

Slots can be categorized as classic, 3D, video slots, etc. Click on the type of slot on the right to see similar types of slots!
Video Slot
Rows:

Rows

Part of the design of the slot, the rows are the horizontal lines that trigger special features when certain paying symbols fall in place.
7
Reels:

Reels

Reels are the vertical lines that are build in the slots architecture; together with the rows they help trigger special winning combinations.
7
Paylines:

Paylines

Paylines, or betting lines, are the pre-determined links of symbols across the rows and reels of a slot. A slot can have anywhere from just 1 payline or up to thousands paylines!
Slot Layout:

Slot Layout

The layout of the slot is the way the slot is built, based on the number of rows, reels and paylines.

7

x

7
Slot Features
Minimum Bet:

Minimum Bet

The minimum accepted amount that will allow you to spin the reels of this slot game.
$0.1
Maximum Bet:

Maximum Bet

The maximum accepted amount that will allow you to spin the reels of this slot game.
$50
Maximum Win:

Maximum Win

The total maximum amount that you could win triggering the biggest winning combo.
$1000000
Progressive Slot:

Progressive Slot

A progressive slot is a slot that keep on growing its total possible winning pool; usually linked by a network of slots. It is also known as a jackpot.
Arcade Game Feature:
Auto Play Feature:

Auto Play Feature

Auto Play is a built-in function on the slot interface that enables automatic spinning of the slot without the player having to press the Spin button on every spin. Usually, the function can be preset to auto execute a certain number of spins like 20,50, 100, or more. Players can typically define their bet amount and set loss limits before starting Auto Play.
Avalanche / Tumbling Reels Feature:
Bingo Feature:
Bonus Bet Feature:
Bonus Buy Feature:

Bonus Buy Feature

This feature enables players to instantly pay for and access the special bonus feature of the slot instead of waiting for a lucky spin in a long spin sequence. This feature has proven to be quite popular among slot players.
Bonus Round Feature:

Bonus Round Feature

The Bonus game feature are the most interesting and profitable phase of the game that different from the ordinary repetitive gameplay. Usually it is triggered by landing several scatter or bonus symbols at the same time. The biggest wins in a slot are usually triggered during the Bonus game play.
Book of Feature:
Card Game Feature:
Changing Reelset Feature:
Cluster Pays Feature:

Cluster Pays Feature

Cluster Pays is a relatively new slot feature that triggers winnings when a given number of same symbols (usually 4 or more) of same type are next to each other on slot's reels or lines. In turn, these slots do not have a fixed number of paylines.
Computer Game Feature:
Crash/Burst Feature:
Fast Games Feature:
Fortune Wheel Feature:
Free Spins Feature:

Free Spins Feature

Free spins are the most popular feature in online slots today. Usually they are not just a free spinning on the usual gameplay of the slot but are bundled into separate and more exciting feature with special effects and much greater winning potential.
Gamble Round Feature:

Gamble Round Feature

Gamble round is a game feature that offers the players the possibility to further gamble their winnings at a certain return, for example a coin toss or a black/red card pick.
Game History Feature:
Gonzo Mechanic Feature:
Hexahedron Clusters Feature:
Hold and Spin Feature:
Hyperspins Feature:
Infinity Reels Feature:
Instant Game Feature:
Instant Win Feature:
Jackpot Feature:

Jackpot Feature

The Jackpot slots have a built-in cash accumulator that has a large prize that can be won separately from wins during normal gameplay. Certain slot labels accumulate very big jackpots from contributions of players playing the slot across many different online casinos.
Lock it Link Feature:
Lottery Feature:
Megaways Feature:

Megaways Feature

Megaways Slots are slots that vary the number of paylines by changing randomly the number of reels during slot play. If successfully triggered the paylines could grow exponentially to over 100,000 and provide massive wins.
Mine Game Feature:
Mini Game Feature:
Nudge Feature:
Pay Anywhere Feature:
Pick Objects Feature:
Skill Games Feature:
Splitting Symbols Feature:
Starburst Mechanic Feature:
Symbol Swap Feature:
Synchronizing Reels Feature:
Turbo Play Feature:

Turbo Play Feature

The Turbo Play feature allows players to play a given slot much faster than usual by bypassing slower effects in graphics and music. It is preferred by players who are familiar with a given slot and do not want to hear repetitive sounds and moves for a long time.
Win All Ways Feature:
Win Both Ways Feature:
xPays Feature:
Available:
Android, IOS, Windows
Pros
Great beach bar theme
Big Potential for huge winnings when features are triggered
Interesting Bonus Buy feature
Relatively attractive RTP of 96.47%
Cons
There could be long losing streaks
High volatility slot - win big but lose big as well
Rate this Game
No star
Rating: 0,00%
(0 votes)
How would you rate this game?
Click on the star below to submit your rating
Play Jurassic Party for Real Money
The Jurassic Party Slot at First Glance!
Prior to our existence, dinosaurs dominated the world. The standard perspective is that they are intimidating and dangerous, but is this the case? Relax Gaming, a trustworthy game vendor, is here to break this stereotype with its latest slot release. The Jurassic Party slot will change your view of dinosaurs. Why? Because you will not come across massive creatures, who are chasing you.
On the contrary, you will discover friendly species which are having fun on the beach, drinking cocktails, and in the mood to give away some rewards. Below, we will thoroughly evaluate Relax Gaming's excellent casino product. Prepare yourself to release the pressure and trigger some massive winnings with one single spin.
Where Can I Play the Jurassic Party Slot?
Relax Gaming is a reputable game developer for its outstanding casino products. The game vendor has won several awards, certifying its commitment to an unparalleled gambling experience. Hence, it does not come out of the blue that most online casino operators have decided to join forces with the provider. Indeed, Relax Gaming Casinos host the all-mighty Jurassic Party Slot. CasinoLandia, in its pursuit of facilitating your gambling experience, has reviewed some of the hottest Relax Gaming Casinos. Check these brands out today, pick the one that meets your expectations, and try your luck on the Jurassic Party Slot.
A High RTP of 96,47% Makes the Jurassic Party Slot Worth Playing!
Relax Gaming is a software provider that has proven to launch products with features above the industry standard. The same applies to the RTP of the Jurassic Party Slot. The company's casino product offers an RTP of 96.47%, meaning that some generous winnings are waiting for you.
How to boost your winning chances – Jurassic PartySlot's Winning Potential
Dinosaurs were massive creatures, undoubtedly. However, the massive aspects of the Jurassic Party Slot are not the dinosaurs themselves but the 7×7 grid and the winning potential. The exciting video slot takes you back to an era where no human existed. It might sound odd at first glance; however, trust us, the fun is guaranteed. Relax Gaming's slot title is set on the beach, where beautifully designed dinosaurs are having some quality time, drinking cocktails without being bothered with day-to-day responsibilities.
The seaside setting brings some positive vibes. The same applies to the lucrative Moby-style music, which will further contribute to your excellent casino experience. However, these are not the unique selling point of the slot. The game is jam-packed with profitable bonus features such as Wilds, Symbol Expanding, Free Spins, Symbol Upgrade, and Extra Pick. The betting range is also set so that regardless of your financial situation, you can spin the slot's reels and trigger some decent winnings. Speaking of winnings, the maximum you can walk away with is in the amount of 20,000x your stake. All in all, Relax Gaming has done fantastic work its this slot release.
Slot Layout and Paying Symbols
As we have already mentioned, the layout of the Jurassic Party Slot is impressive. It will definitely appeal to players with different preferences. On the 7×7 grid, you will discover a paytable, from which you will find out how each symbol and winning combination will reward. We strongly encourage you to double-check it before wagering for real money. Symbols-wise, you will spin 8 available symbols. These are four high-paying dinosaurs and, respectively, their eggs, which are the low-paying symbols. Apart from the basic symbols, there are also Wilds and Scatters, which can trigger even bigger winnings, so pay attention to them.
Wilds, Scatters and How they All Come Together
Clusters of five or more identical symbols that land in adjacent vertical or horizontal locations will result in winning. The cascade feature eliminates them from the board, and symbols drop to fill the spaces. The procedure is repeated if fresh winners emerge. The mathematical model that underpins the slot also operates highly dynamically. Of course, the game features a Wild and a Scatter symbol. The Wild is represented by a delicious cocktail, while the Scatter comes in the form of a neon symbol with the game's name on it.
The Jurassic Party Slot – a Look Behind the Curtains
Casino slots are arguably the most popular form of casino activity nowadays. However, it should be noted that casino slots should not be players for income increase purposes. This is because they feature an RNG, meaning the outcome is entirely unpredictable. At least, we review solely such products as we encourage transparency. Slots have a different number of reels, rows, and paylines. Therefore, we advise you to double-check the layout of the respective slot before engaging in any actual money casino activities. Developing a successful betting strategy and reading reviews before betting is also helpful. You will discover reviews of the trendiest slot titles on our page, so make sure you read them carefully.
Develop Your Own Betting Strategy
Having a successful betting strategy is pivotal for your positive gambling experience. However, to develop a successful betting strategy, you will need to know the betting limits of the Jurassic Party Slot. When playing the slot, the minimum you can bet is in the amount of $0.10, and the maximum is $50. This betting range perfectly suits players with different limitations since both high-rollers and low-risk players are catered for. Significantly, the betting range can be adjusted whenever you want.
Play Here, Play There, Play Everywhere – Ozzy Osbourne Slot and Mobile Compatibility
The Jurassic Party slot adheres to all trends in the iGaming Industry. As a result, the game can be played on the go using HTML5 technology. All you need is a compatible electronic device and a stable internet connection. Rest assured that Relax Gaming did not compromise on visual excellence when creating the game's mobile version, meaning that you will benefit from the same aesthetics when spinning its reels.
Spin for Free Now, Thank us Later!
Gambling is not as straightforward as it might appear. Therefore, we always encourage you to use the Free Play mode. The Free Play mode will provide you with the perfect opportunity to experience first-hand all aspects of the slot without investing any real money. It will also help you understand whether the slot suits you or not. The Free Play mode can be found here on this page. Alternatively, you can discover a Free Play mode of the game at your favorite Relax Gaming Casino.
Tips and Tricks on the Jurassic Party Slot
We at CasinoLandia, promote responsible gambling. For that reason, we advise our players to gamble responsibly as we do not want them to end up disappointed. Gambling responsibly is possible when players wager for the sake of fun and not solely for winning. By and large, the iGaming Industry is designed to entertain you, not to make your life harder. If you believe that you are becoming an addict, we encourage you to talk about your issues and ask for help. There are several self-inclusion tools and organizations which help gamblers worldwide. Regarding the Jurassic Party Slot, we advise you to regularly keep track of your funds and the amount spent on the slot. You might want to start betting with smaller amounts, however, bear in mind that the more you wager, the more you will win.
Watch Out for Bonuses and Free Spins On the Grid!
As we have already mentioned, the bonus features make the Jurassic Party Slot more exciting compared to slots with a similar theme. To begin with, the slot offers a Free Spins feature. Landing at least 3 Scatters will award you 7 Free Spins as well as 2 feature picks. Following this, players will be given the option to choose one out of three cocktails. This procedure is repeated to determine how many feature picks were given. It shows modifiers, including Symbol Turns Wild, Symbol Expanding, Random Wilds, Extra Free Spins, Symbol Upgrade, and Extra Pick. The Jurassic Party Slot also offers a Respin feature. To activate it, you will need to land 2 Scatter symbols.
Furthermore, the game offers a Mega Bet feature. This particularity of the game increases the stake by 50%. Last but certainly not least, you will also benefit from a Buy Feature. How does it work, though? For 80x your stake, you will get Free Spins in addition to 2 feature picks. Remember that when the Mega Bet feature is triggered, the cost will increase to 120x your wager for the consideration of Free Spins as well as 3 feature picks.
All Casinos Offering Relax Gaming Slots on CasinoLandia
Below are the online casino brands with strongest Landia ratings that offer Relax Gaming games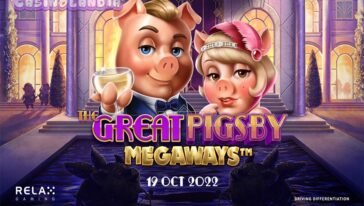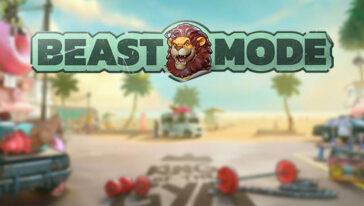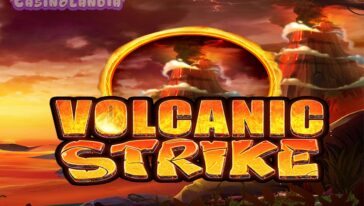 Volatility and Variance
The Jurassic Party Slot is a game of high volatility, featuring an RTP in the amount of 96.47%. The hit frequency is 23.64%, meaning that some occasional winnings are waiting for you. The high volatility makes the game perfectly suitable for high-risk players. Nevertheless, those with limited funds will also walk away with an exciting reward.
Is the Jurassic Party Slot StillON THE TOP OF THE CHARTS? CASINOLANDIAS VERDICT
Jurassic Party slot is an excellent casino product developed by Relax Gaming. The game entered the gambling scene on 19 April 2022. Since its launch, the slot has managed to entertain players from all around the world. Players like the most are the improved graphics and sound effects, excellent theme, the beach atmosphere, and of course, the large assortment of immersive bonus features. So far, the Jurassic Party slot has rewarded several players. So, why not join their club and turn yourself into the next big winner from the game? Winnings up to 20,000x your stake are waiting for you.
FAQs: Recent Frequently Asked Questions About Jurassic Party Slot
Here are some common and important questions about Jurassic Party slots that we want to answer to our readers.
How can I play Jurassic Party Slot for free?
The Jurassic Party Slot is available for Free Play right on CasinoLandia.com. No Download is required. Just hit the Play for Free button on our site.
What is the RTP of the Jurassic Party Slot?
The RTP (Return to Player) of the Jurassic Party Slot is 96.47%. Such RTP is considered relatively common and will be appealing for players looking to play longer on slots.
Can I get Free Spins on Jurassic Party Slot?
3 scatters awards 7 Combo Feature Free Spins with 2 feature picks.rn1 additional feature pick is awarded for every additional scatter which triggers free spins.rn2 scatters landing during free spins awards 2 additional free spins and 1 additional feature.rn1 scatter landing during free spins awards 1 additional free spin.
Does the Jurassic Party Slot have a jackpot?
No. There is no Jackpot available for the Jurassic Party Slot.
What is the maximum that a player can with at Jurassic Party Slot?
Lucky players that trigger the maximum possible win at Jurassic Party will get their maximum bet of $/u00a3/€50 multiplied by x20,000. So, 50 x 20,000 = $/u00a3/€ 1,000,000
Is Jurassic Party Slot Mobile-Compatible?
Absolutely. All Relax Gaming games are fully compatible with all modern electronic devices.
What are the betting limits and the layout at Jurassic Party Slot?
The minimum bet is $/u00a3/€0.10. The maximum bet is $/u00a3/€50.00. The Slot Layout is 7×7.
What are the best Online Casinos to Play Jurassic Party at?
While many casinos offer Relax Gaming games, we invite you to visit our daily updated listing on the Best Relax Gamingon CasinoLandia.com. There you can easily make your judgment for the most proper casino brands for your preference.
Play other slots by Relax Gaming
Play other Beach Slots