Big Wins/Jackpots
Game Providers
Industry News
Media Partners
New Slots
Press Releases
Unleash the Beastly Wins in Red Tiger's Monstrous Showdown
Embark on an adrenaline-pumping journey into the sinister lair of monstrous delights with Red Tiger's latest creation, Monsters Unchained! Break free of the fearsome Minotaur, Medusa, and Cerberus every 10 spins to witness their unique powers and revel in the expanding reels and multiplying wild symbols that pave the way to monstrous wins. Brace yourself for the heart-stopping Monster Spins, where 10 Free Spins unlock the untamed fury of these creatures in each spin, offering a chance to claim unimaginable rewards. With captivating visuals and gripping gameplay, Monsters Unchained promises an unforgettable experience for online casino players and gambling enthusiasts alike – are you ready to roar for victory and tame these terrifying beasts for massive wins?
Unleash the Beastly Wins in Red Tiger's Monstrous Showdown
Rated 94.74/100%
275 Casinos | 271 Games
All Casinos
Are you brave enough to delve into the shadowy depths of Red Tiger's newest sensation – Monsters Unchained? Enter, if you dare, for a chilling and captivating adventure awaits in the lair of terrifying beasts!
Step into a gaming grid-like no other, where three monstrous creatures lie in wait: the Minotaur, Medusa, and Cerberus. But beware, these fearsome beasts aren't tamed easily – they'll reveal their unique powers every 10 spins when their chains are shattered. Hold onto your seat as the reels expand, giving way to a horde of wild symbols, multiplying your winnings in their untamed world of darkness. Get ready to face the challenge of a lifetime!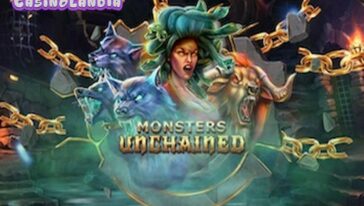 Meet the three fiendish monsters who rule this domain. The Mighty Minotaur: Half bull, half man, and all fury! When the Minotaur's chains are broken, wild symbols will stampede across the reels, paving a path towards monstrous wins. Can you withstand the Minotaur's wrath and claim the bountiful rewards it guards?
Secondly, the Dreaded Medusa: With serpents for hair and a petrifying gaze, Medusa is a force to reckon with. Break her chains, and witness a cascade of symbols, unlocking an ancient treasure trove of riches. Will you stare fearlessly into Medusa's eyes and seize your fortune?
Last but certainly not least, the Ferocious Cerberus: Guarding the gates of the underworld, Cerberus, the three-headed hound, strikes terror into the bravest souls. But when its chains are shattered, prepare for an eruption of expanding reels that can lead to legendary triumphs. Can you tame this infernal beast and claim its immense rewards?
Further, as you venture deeper into the heart of this dark realm, prepare for the spine-chilling Monster Spins! Unlock a thrilling 10 Free Spins and watch in awe as the untamed monsters roam free with every spin, revealing their unbridled fury and potentially showering you with rewards beyond imagination.
Monsters Unchained offers an unparalleled gaming experience that will keep you spellbound and yearning for more. The fusion of heart-pounding visuals, hair-raising sound effects, and gripping gameplay transports you to a world where terror and excitement dance hand in hand.
Dear Red Tiger fans, are you ready to seize the ultimate challenge? Can you withstand the monstrous terror, embrace the exhilaration, and emerge victorious from the depths of this beastly cave? The stage is set, and the monsters eagerly await their worthy challengers. Unleash the roars of courage and claim your fortune!
The stage is set, the monsters are unleashed, and the showdown for unimaginable rewards begins! In Red Tiger's Monsters Unchained, courage and strategy will be your allies as you confront the untamed beasts. Spin the reels, embrace the fear, and let fortune favor the fearless. The time for legendary wins has come – are you ready to make history? Join the monstrous showdown now and unleash your inner beast to seize victory! Happy spinning, and may luck be on your side!
Latest Releases by Red Tiger
Take a look at the last 10 slot releases by the awesome software provider Red Tiger.