Big Wins/Jackpots
Game Providers
Industry News
Media Partners
New Slots
Press Releases
Judgment Day Megaways Now Available At Red Tiger Casinos
Red Tiger Gaming has ushered in a new era of online casino gaming with the release of Judgement Day Megaways. This slot game introduces players to a thrilling confrontation with four malevolent demons, each with their own unique powers. Seal Wilds, summoned by these demons, bring skull-shattering wilds, symbol multipliers, and the touch of Death to the reels. Before Free Spins, players get to choose a demon, guaranteeing their power throughout the battle. Judgement Day Megaways promises an electrifying, visually stunning, and gratifying gaming experience for online casino enthusiasts ready to embrace their inner demons.
Judgment Day Megaways Now Available At Red Tiger Casinos
Rated 94.74/100%
240 Casinos | 270 Games
All Casinos
In a gaming revelation that's sure to set the online casino world ablaze, Red Tiger Gaming has unleashed its latest creation – the Judgement Day Megaways Slot. Get ready for an intense cosmic showdown as four malevolent demons enter, each poised to unleash their diabolical powers upon the reels.
As you dive headfirst into the heart-pounding action of Judgement Day Megaways, you're about to experience a confrontation like no other. Four sinister demons, each representing a different facet of impending doom – Conquest, War, Famine, and Death – take center stage. Their mission? To turn the reels into a cauldron of chaos and excitement.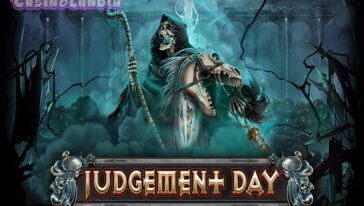 New
Watch in awe as Seal Wilds mysteriously materialize on the gaming grid, summoning one of these formidable demons into play. Every demon brings their own unique brand of malevolence to the table. Conquest showers the reels with Skull Wilds, slashing symbols with evil glee. War, however, introduces symbol multipliers to not just one but two reels, creating a whirlwind of winning opportunities.
Yet, it's with Famine that the true dark magic unfolds. Famine calls upon the dreaded touch of Death, which drags multiplier Skull Wilds onto a single reel. This demonic touch transforms the game into a high-stakes inferno, where fortunes rise and fall in the blink of an eye.
Before the Free Spins feature ignites, an exhilarating choice awaits you. You'll have the thrilling opportunity to select one of the four demons randomly. The demon you choose guarantees its power for every free spin during the upcoming battle. Will you opt for Conquest's symbol-slashing fury or War's dual-reel multiplier madness? The choice is yours, and the consequences promise to be nothing short of electrifying.
Prepare to be consumed by the searing fires of Judgement Day Megaways, an epic battle that Red Tiger Gaming has masterfully crafted. This slot game is more than just a game; it's an all-consuming showdown that will keep you riveted to your seat, spinning the reels for hours on end.
With its visually stunning design and groundbreaking gameplay mechanics, Judgement Day Megaways is engineered to captivate even the most seasoned of online casino players. The allure of its demonic theme, coupled with the promise of mind-blowing wins, will have you coming back for more, again and again.
In the world of online casinos, Judgement Day Megaways is set to reign supreme, captivating players with its darkly enchanting aesthetic and the potential for devilishly big payouts. Get ready to unleash your inner demon and dive into the inferno of Judgement Day Megaways.
Latest Releases by Red Tiger
Take a look at the last 10 slot releases by the awesome software provider Red Tiger.