Slot Review
9 Coins Extremely Light
Our Rating:
95.00% Gold star
Visitor Rating:
0,00% No star
Times Played:
1 Times Played
TOP CHOICE TO PLAY FOR REAL MONEY
Rated 99.16/100%
welcome bonus
175%/5 BTC + 300 Free Spins
40x wagering
OTHER TOP CHOICES FOR REAL MONEY PLAY
Quick Facts
Provider:

Provider

The Slot Provider is none other than the company who developed the slot. Simply click on the name of the provider to find our more about it!
Date Launched:

Date Launched

The date when this slot game was launched.
30/08/2023
Theme:

Theme

Theme is the general genre that the the slot could be classified as. One of the elements that makes slot games appealing, A nicely planned popular theme can potentially skyrocket the popularity of an online slot!
Coins, Gold, Treasure
Jackpot:

Jackpot

A stand-alone or multi-leveled progressive prize pool that a player can win at a given time, simply by spinning the reels.
Special Symbols:

Special Symbols

The special symbols of a slot are part of its mechanic. Elements such as Wilds, Scatters and regular paying symbols come together to form winning combinations.
Bonus, Re-Spins
Review Summary
"9 Coins Extremely Light" doesn't just occupy the realm of slot games; it elevates it. With its intricate gameplay mechanics, visually arresting design, and the fusion of medium volatility with a 95% RTP, this Wazdan creation captures the essence of entertainment and reward. Both newcomers and seasoned players will find its equilibrium of frequent wins and the potential for substantial payouts alluring. The malleable betting options further enhance its appeal, ensuring that players can chart their own course in this captivating journey, adjusting their stakes according to their preference. And as icing on the cake, the game's compatibility with mobile devices provides an unbroken connection to its charms, allowing players to immerse themselves in its allure wherever they go.
Slot Information
Return to Player (RTP):

Return to Player (RTP)

The Return to Player is a statistic that aims to show the player's edge over the casino - the higher this number is the better! We review all slots based on this RTP value so click on the percentage on the right to find our more slots with a similar RTP!
96.06%
Volatility/Variance:

Volatility/Variance

Volatility or Variance is meant to describe the winning potential of a slot game: a high volatility will have you win big but no so often, while a low volatility will let you win frequently, but less.
Medium
Progressive Slot:

Progressive Slot

A progressive slot is a slot that keep on growing its total possible winning pool; usually linked by a network of slots. It is also known as a jackpot.
Slot Type:

Slot Type

Slots can be categorized as classic, 3D, video slots, etc. Click on the type of slot on the right to see similar types of slots!
Video Slot
Rows:

Rows

Part of the design of the slot, the rows are the horizontal lines that trigger special features when certain paying symbols fall in place.
3
Reels:

Reels

Reels are the vertical lines that are build in the slots architecture; together with the rows they help trigger special winning combinations.
3
Paylines:

Paylines

Paylines, or betting lines, are the pre-determined links of symbols across the rows and reels of a slot. A slot can have anywhere from just 1 payline or up to thousands paylines!
Slot Layout:

Slot Layout

The layout of the slot is the way the slot is built, based on the number of rows, reels and paylines.

3

x

3
Slot Features
Minimum Bet:

Minimum Bet

The minimum accepted amount that will allow you to spin the reels of this slot game.
$0.2
Maximum Bet:

Maximum Bet

The maximum accepted amount that will allow you to spin the reels of this slot game.
$10000
Maximum Win:

Maximum Win

The total maximum amount that you could win triggering the biggest winning combo.
$500000000
Progressive Slot:

Progressive Slot

A progressive slot is a slot that keep on growing its total possible winning pool; usually linked by a network of slots. It is also known as a jackpot.
Bonus Buy Feature:

Bonus Buy Feature

This feature enables players to instantly pay for and access the special bonus feature of the slot instead of waiting for a lucky spin in a long spin sequence. This feature has proven to be quite popular among slot players.
Bonus Round Feature:

Bonus Round Feature

The Bonus game feature are the most interesting and profitable phase of the game that different from the ordinary repetitive gameplay. Usually it is triggered by landing several scatter or bonus symbols at the same time. The biggest wins in a slot are usually triggered during the Bonus game play.
Hold and Spin Feature:
Lock it Link Feature:
Available:
Android, IOS, Windows
Pros
Balanced Gameplay
Bonus Buy
Gamble Round
Mobile Compatibility
Cons
Limited Theme Variety
Higher Wagering
Complexity
Rate this Game
No star
Rating: 0,00%
(0 votes)
How would you rate this game?
Click on the star below to submit your rating
Expert's Opinion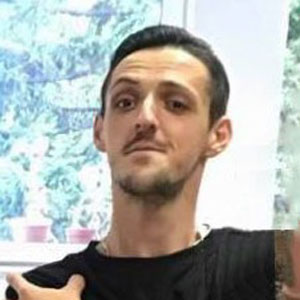 Having delved into countless gaming experiences, "9 Coins Extremely Light" undoubtedly stands out as a masterpiece of its own. The brilliance lies in its harmonious blend of a 95% RTP, reflecting its commitment to fairness and reward, and the medium volatility that keeps players engaged with a spectrum of win sizes. Wazdan's meticulous attention to both artistic and technological details results in a symphony of symbols that evoke a sense of wonder on every spin. The mobility factor, letting players carry this enchanting universe in their pockets, is a testament to the game's adaptability and accessibility. Overall, "9 Coins Extremely Light" showcases Wazdan's unswerving dedication to delivering an extraordinary gaming escapade that resonates with enthusiasts and experts alike, setting a benchmark for the industry's creative prowess.
9.50 /10 by Mladen Gyuzelski
Play 9 Coins Extremely Light for Real Money
Introducing the 9 Coins Extremely Light
Embark on a luminous journey into the realm of chance with "9 Coins Extremely Light" by Wazdan, where each spin carries the weight of potential fortunes. Like ethereal whispers, these nine shimmering coins hold the power to tip the scales of fate in your favor, their weightlessness defying the gravity of conventional slot games. With Wazdan's signature blend of cutting-edge technology and artistic craftsmanship, prepare to be mesmerized by a gaming experience that transcends the ordinary and flutters among the stars. Get ready to release the shackles of the familiar, as "9 Coins Extremely Light" invites you to explore a universe where luck knows no bounds and wins gleam as brightly as constellations in the night sky.
9 Coins Extremely Light Volatility and RTP
In the captivating world of "9 Coins Extremely Light," players are greeted with a medium volatility gameplay that strikes a harmonious balance between frequent smaller wins and occasional larger payouts. This delicate equilibrium ensures an engaging experience, where the anticipation of both modest and substantial rewards keeps the excitement alive spin after spin. The medium volatility level adds a touch of unpredictability to the game, making each session an exploration of twists and turns that enhance the thrill of the journey.
With a generous Return to Player (RTP) rate of 96.06%, "9 Coins Extremely Light" offers players a favorable opportunity to reap the rewards of their gaming endeavors. This percentage signifies the portion of total wagers that the game is programmed to return to players over an extended period, underlining the game's commitment to providing a fair and rewarding experience. The combination of medium volatility and a high RTP ensures that players can engage in the gameplay with confidence, knowing that their chances of experiencing both entertainment and worthwhile wins are optimally balanced.
"9 Coins Extremely Light" by Wazdan presents an enchanting blend of medium volatility gameplay, where the thrill of varied win sizes dances in equilibrium. With a generous RTP of 96.06%, players can immerse themselves in a world of captivating chance, where excitement and rewarding possibilities intertwine harmoniously.
The Paytable of 9 Coins Extremely Light
Delve into the intricate tapestry of rewards woven within the paytable of "9 Coins Extremely Light," and uncover a treasure trove of potential winnings. Each symbol carries its own significance, from the delicate flutter of the butterfly to the resolute gaze of the lion, all culminating in a symphony of combinations that dictate your fate on the reels. With meticulous attention to detail, the paytable paints a vivid picture of the value hidden within each spin, inviting players to decipher the intricacies and chart their course toward fortune. As you navigate this visual lexicon of possibilities, the paytable becomes more than a mere reference—it becomes a map guiding you through the enchanting landscape of this unique gaming experience.
The Symbols of 9 Coins Extremely Light
The symbols in "9 Coins Extremely Light" gracefully come alive, each with its own enchanting aura, weaving a narrative of chance and possibility across the vibrant reels.



9 Coins Extremely Light Features
Cyber Wolf features an action-packed gameplay experience with a futuristic twist, immersing players in a world of high-tech wonders. The slot offers a dynamic mix of thrilling bonus rounds and free spins, providing ample opportunities to unlock massive wins while exploring the technologically advanced gaming environment. The captivating cyber-themed symbols and innovative features create an electrifying atmosphere that keeps players engaged and entertained. With its cutting-edge graphics and immersive sound effects, Cyber Wolf offers an adrenaline-pumping adventure for those who seek a futuristic gaming experience like no other. Prepare to embrace the digital realm and conquer the cyber wilds as you spin the reels and unleash the potential of this captivating slot game.
| Feature | Description |
| --- | --- |
| Minimum Bet | The minimum bet amount in 9 Coins Extremely Light is $0.2, allowing for flexible wagers. |
| Maximum Bet | The maximum bet amount in 9 Coins Extremely Light is $10000, catering to high rollers. |
| Auto Play Feature | The Auto Play feature enables seamless and convenient automated gameplay. |
| Free Spins Feature | The Free Spins feature awards players with additional spins for more chances to win. |
| Bonus Buy Feature | The Bonus Buy Feature allows players to instantly access the Free Spins feature by purchasing it with a single click, providing an opportunity for thrilling encounters with the bison and the potential for wild wins. |
9 Coins Extremely Light Mobile Compatibility
Embarking on the entrancing journey offered by "9 Coins Extremely Light" is no longer confined to a static location, as the game boasts a remarkable level of mobile compatibility that invites players to carry its enchanting world within the confines of their handheld devices. This compatibility ensures that the allure of its shimmering reels, the anticipation of its exciting features, and the promise of potential winnings are all seamlessly translated onto the smaller screens, without compromising the immersive experience that the game offers. Whether you find yourself amidst the hustle and bustle of a daily commute, basking in a serene outdoor setting, or simply seeking a moment of leisure in the comfort of your home, the mobile version of "9 Coins Extremely Light" adapts effortlessly to your surroundings. The responsive design and intuitive controls make navigating the game a breeze, allowing you to spin the reels with the same sense of anticipation and excitement that you would encounter on a desktop platform.
Helpful Questions for 9 Coins Extremely Light by Wazdam
Learn more and enhance your 9 Coins Extremely Light experience with these helpful questions.
What is the RTP of the 9 Coins Extremely Light?
The Return to Player (RTP) of "9 Coins Extremely Light" stands as a testament to the game's dedication to creating an engaging and rewarding gaming adventure. Set at an impressive 96.06%, this percentage reflects the calculated portion of players' wagers that the game is programmed to return over a sustained period of gameplay. This commitment to a high RTP ensures that players can step into the world of "9 Coins Extremely Light" with confidence, knowing that their investment in each spin holds the potential for substantial returns. With this generous RTP rate, players are invited to explore the game's shimmering reels, intricate symbols, and captivating features while relishing the knowledge that their chances of securing both entertainment and worthwhile winnings are optimally balanced. Whether it's the excitement of aligning symbols or the thrill of chasing bonus rounds, the 95% RTP in "9 Coins Extremely Light" serves as a reassuring anchor, promising an immersive experience that's not only visually enchanting but also financially rewarding.
What is the maximum win of 9 Coins Extremely Light?
The maximum win achievable in "9 Coins Extremely Light" stands at an impressive $5,000,000. This substantial potential payout adds an extra layer of excitement to the gameplay, offering players the chance to reap significant rewards as they spin the shimmering reels and engage with the enchanting features of the game. Whether you're aiming to uncover winning combinations or trigger bonus rounds, the allure of the $5,000,000 maximum win provides a tantalizing incentive that enhances the overall thrill of the gaming experience.
What is the betting range applied at 9 Coins Extremely Light?
In "9 Coins Extremely Light," players are presented with a versatile betting range that caters to a wide spectrum of preferences and strategies. The minimum bet starts at $0.20, allowing players to engage in cautious gameplay while still enjoying the thrill of the shimmering reels and potential wins. For those seeking a more exhilarating experience, the game accommodates higher stakes with a maximum bet of $10,000, offering an opportunity to chase larger rewards and truly immerse themselves in the enchanting universe of the game. This flexible betting range ensures that players of all levels can tailor their wagers to suit their individual comfort zones and gaming objectives, making each spin an exciting journey that aligns with their preferred style of play.

Which game provider has created 9 Coins Extremely Light?
The captivating gaming masterpiece known as "9 Coins Extremely Light" springs forth from the creative genius of none other than the esteemed game provider Wazdan. Renowned for their commitment to pushing the boundaries of innovation and entertainment within the iGaming industry, Wazdan has once again demonstrated their prowess in crafting immersive and exhilarating gaming experiences. With an unwavering dedication to both cutting-edge technology and artistic ingenuity, Wazdan has expertly woven together a tapestry of shimmering visuals, engaging gameplay, and the promise of substantial rewards in "9 Coins Extremely Light." Through their meticulous attention to detail and unwavering commitment to player satisfaction, Wazdan has etched their mark on the gaming landscape, delivering a title that captivates the senses and offers an unforgettable journey into the realm of chance and fortune.
Is 9 Coins Extremely Light mobile-firendly?
Absolutely, "9 Coins Extremely Light" embraces a seamless mobile-friendly design, ensuring that the enchanting world of the game is readily accessible and captivating across a diverse range of handheld devices. Whether you're wielding a smartphone or a tablet, the game's captivating visuals, shimmering symbols, and engaging features are optimized to provide an immersive and thrilling experience. This mobile-friendly approach allows players to embark on their gaming adventure anywhere and anytime, without compromising the quality of gameplay or the potential for substantial winnings. So, whether you're on the move or enjoying a moment of relaxation, "9 Coins Extremely Light" remains at your fingertips, ready to deliver its charm and excitement on the mobile screen.
CasinoLandia's Conclusion on 9 Coins Extremely Light
In the vast landscape of online gaming, "9 Coins Extremely Light" emerges as a true gem, expertly crafted by Wazdan to encapsulate the essence of innovation, entertainment, and the thrill of fortune. With its bewitching symbols that seem to dance on the reels, medium volatility that balances anticipation and reward, and an impressive RTP of 95%, the game offers an intricate web of chance and potential for players to unravel. The flexibility of its betting range, from a modest $0.20 to an exhilarating $10,000, ensures that players of every calibre can engage in a personalized gaming experience that resonates with their comfort and ambition. What's truly remarkable is the game's seamless transition to the mobile platform, ensuring that the captivating journey of "9 Coins Extremely Light" is perpetually at your fingertips, whether you're navigating the day's bustle or seeking solace in a tranquil setting.
Play other slots by Wazdan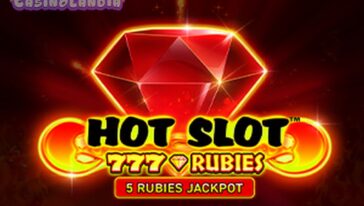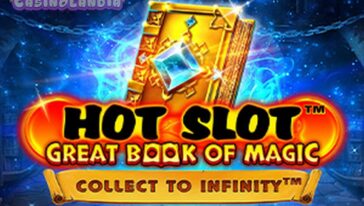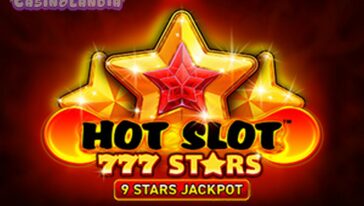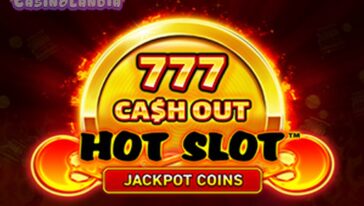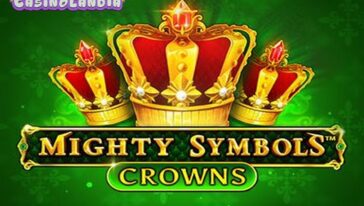 Play other Coins Slots