Big Wins/Jackpots
Game Providers
Industry News
Media Partners
New Slots
Press Releases
Ride the Waves of Fortune With Sharky Frenzy Slot
Dive into the exhilarating world of Sharky Frenzy, Mancala Gaming's latest sensation, where a tropical paradise meets thrilling casino action. Join the lovable Sharky on the shores of a virtual beach as multipliers, Scatter wins, and free spins create a tidal wave of rewards. Uncover mystery boxes for bespoke surprises while the Bonus Game ramps up the excitement with increasing Multipliers. With a sprawling 5x6 grid and a relentless Avalanche effect, Sharky Frenzy promises non-stop entertainment, making it a must-try adventure for online casino enthusiasts seeking a summer of wins.
Ride the Waves of Fortune With Sharky Frenzy Slot
Media Partner
Rated 93.70/100%
123 Casinos | 46 Games
All Casinos
Hold onto your virtual surfboards and get ready to immerse yourself in a gaming experience like no other as Mancala Gaming proudly introduces its latest masterpiece – the Sharky Frenzy slot! This sensational creation is all set to transport you to a sun-drenched realm of endless entertainment and untold riches right from the comfort of your favorite online casino hub. So, gear up for a tidal wave of excitement that will have you riding the waves of fortune!
Step onto the virtual shores of a mesmerizing tropical beach, where the sands are as soft as a dream, and the crystalline sea stretches into infinity. The air carries a medley of tropical fruit aromas, evoking images of swaying palm trees and a paradise waiting to be explored. Leading the charge is none other than the charmingly goofy Sharky, your trusty guide through this exhilarating journey. With a grin that could light up the virtual sky, Sharky is ready to show you the ropes and lead you through an action-packed cascade of multipliers and Scatter wins that pave the way for those sought-after free spins and grand rewards.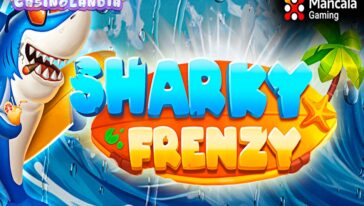 But that's not the whole story! Venture beyond the shoreline, and you'll stumble upon a trove of mystery boxes, each containing tailor-made summer surprises that promise to take your gaming escapade up several notches. These surprises are designed to elevate your experience, bringing you even closer to the heart-pounding action that the Sharky Frenzy slot is famous for. Brace yourself for an unprecedented adventure as each spin in the Bonus Game amps up the Multiplier value, opening the doors to colossal wins that could redefine your understanding of good fortune!
Enveloping you in its charms is the sprawling 5×6 game grid, where every spin sets off an electrifying Avalanche effect, orchestrating an uninterrupted symphony of wins. Say goodbye to monotony, as the Sharky Frenzy slot guarantees non-stop action and entertainment that's bound to keep you glued to your seat for hours on end.
But what's truly exceptional about Sharky Frenzy is that it's more than just a game – it's a celebration of all things summer, a carnival of delight, and a voyage into the realm of endless possibilities. It's not just the captivating visuals or the foot-tapping music that's been meticulously crafted to keep you engaged. It's the pulse-quickening excitement that accompanies each spin, the suspense that grows as the reels spin, and the rush of triumph that comes with every big win.
So, if you're someone who craves adventure, hunger for thrills, and has an insatiable appetite for fun, look no further. Embark on a journey that will have you teetering on the edge of your seat as you dive headfirst into the Sharky Frenzy experience. Join the ranks of online casino enthusiasts who've already unlocked the gateway to this summer paradise. Discover Sharky Frenzy for yourself and immerse yourself in a world where riches await, and excitement knows no bounds.
The sun-soaked adventure awaits, and you're invited! Grab your metaphorical sunscreen, put on your gaming goggles, and get ready to ride the waves of fortune like never before. The tropical paradise of Sharky Frenzy is here, beckoning you to partake in a whirlwind of spins and wins. Don't hesitate – plunge into Sharky Frenzy today and let the reels do the talking!
Latest Releases by Mancala Gaming
Take a look at the last 10 slot releases by the awesome software provider Mancala Gaming.