Monkey Mafia Goes Bananas with Relax Gaming
Welcome to the uproarious world of Banana Town, where mischievous monkeys and outrageous adventures await. In Relax Gaming's Banana Town Dream Drop, you'll embark on a wild journey with the notorious monkey mafia, aiming for the coveted Dream Drop Jackpot and a chance to win big. Break a few eggs, match symbols, and unlock unimaginable riches while immersing yourself in the vibrant chaos of this unpredictable town. Join the monkey mania, embrace the madness, and let your inner daredevil go bananas like never before!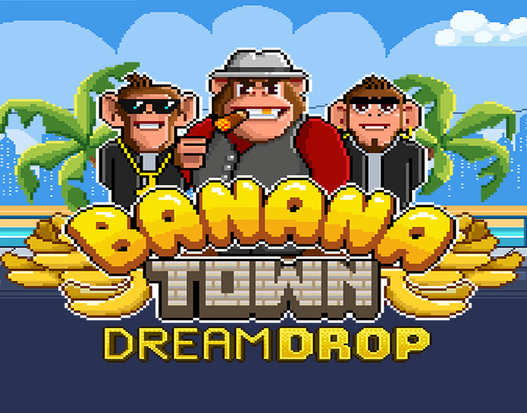 Monkey Mafia Goes Bananas with Relax Gaming
Rated 94.76/100%
251 Casinos | 204 Games
All Casinos
Are you excited about the uproarious return of the monkey mafia in Relax Gaming's recent casino product, Banana Town Dream Drop? Explore a world where mischievous monkeys reign supreme as they set their sights on the elusive Dream Drop Jackpot, promising an eye-popping 10,000 times your stake! It's time to swing into action and grab your share of the mischief.
Welcome to Banana Town, a place where fortunes are made and broken, and three banana crates stand between you and life-changing wins. Imagine the thrill of matching three symbols, unlocking the tantalizing jackpot, and watching your dreams become a reality. But remember dear player; this town is all about taking risks and embracing the chaos. So, are you ready to seize the opportunity and join these mischievous primates on a quest for big winnings?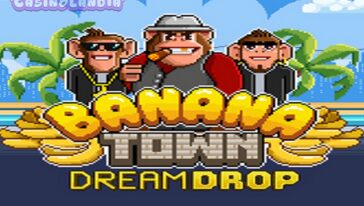 New
As you venture into Banana Town, keep your senses sharp for surprises around every corner. The monkey mafia is notorious for their daring escapades, and they've got a few tricks up their sleeves to make your journey even more exhilarating. Prepare to be astonished by multiplier upgrades that can send your winnings soaring to new heights. And keep your eyes peeled for those coveted Free Spins, opening the doors to unimaginable treasures. With the monkey mafia, it's all about high stakes and high rewards—so buckle up and get ready for an adventure like no other!
No matter the size of your bankroll, Banana Town Dream Drop welcomes players from all walks of life. With a minimum bet of just EUR 0.20, even the most cautious gamblers can join in on the riotous fun. Whether you're a seasoned high roller or a curious novice, there's a seat at the table with your name on it. It's time to let your inner daredevil run wild and claim your place in Banana Town's hall of fame!
Likewise, Banana Town Dream Drop offers much more than just a chance to spin the reels. Relax Gaming has truly outdone themselves with a visual feast that immerses you in the vibrant world of these mischievous monkeys. From the moment you hit play, you'll be entranced by the mesmerizing sights and sounds, transporting you to a realm where chaos and rewards collide. Get ready to tap your toes to an infectious soundtrack that captures the spirit of Banana Town and sets the stage for a thrilling gambling extravaganza.
Banana Town Dream Drop stands as a testament to Relax Gaming's unwavering commitment to delivering unparalleled entertainment to online casino players. It's a game that seamlessly blends excitement, humor, and the irresistible charm of mischievous monkeys. So, gear up for an unforgettable adventure as the monkey mafia takes you on a wild ride through the unpredictable streets of Banana Town. The stakes have never been higher, and the monkey mafia eagerly awaits your arrival. Your fortune awaits, and the monkey mania is about to sweep you off your feet.
Latest Releases by Relax Gaming
Take a look at the last 10 slot releases by the awesome software provider Relax Gaming.