Big Wins/Jackpots
Game Providers
Industry News
Media Partners
New Slots
Press Releases
Monkey King: Path of Treasure – Game of the Month
Mancala Gaming's latest creation, Monkey King: Path of Treasure, heralds a new era of innovation in iGaming. This visually stunning and intricately designed slot game immerses players in a captivating narrative inspired by Chinese folklore as they follow the heroic Monkey King on a quest for untold riches. With its unique gameplay dynamics, including progress points and Wild symbols that boost both winnings and multipliers, the game offers an unparalleled gaming experience. Mancala Gaming's dedication to player-centric features, such as the Buy Bonus option, ensures that players have unprecedented control over their gaming journey. Monkey King: Path of Treasure is a paradigm shift in online casino entertainment, inviting players to embark on an epic odyssey filled with adventure and the promise of immense rewards.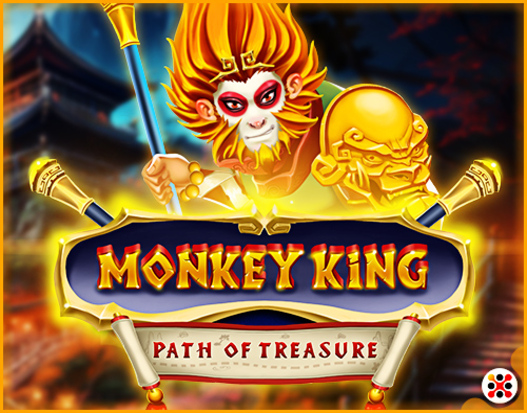 Monkey King: Path of Treasure – Game of the Month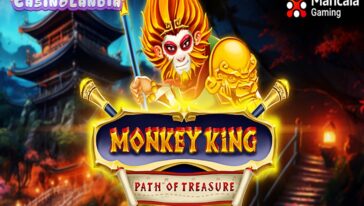 New
Prepare to embark on a truly extraordinary gaming odyssey with Game of the Month, Monkey King: Path of Treasure. This cosmic slot experience transcends conventional boundaries, immersing players in an interstellar journey where captivating themes collide in a mesmerizing symphony. From the enigmatic allure of extraterrestrial life to the charismatic presence of the legendary Monkey King and the allure of uncovering mythical treasures, this slot game weaves together a tapestry of intrigue and excitement. It's a visual masterpiece that doesn't just beckon players but transports them to a realm where every spin unveils a new facet of this mesmerizing adventure. With its intricate design, engaging gameplay, and the potential for astronomical wins, Monkey King: Path of Treasure promises not just moments of joy but hours of unforgettable entertainment that will leave you craving for more.
Game Overview:
Theme:

 Alien, Animals, King, Monkey, Mythical, Treasure

Special Symbols:

 Multipliers, Scatters, Wilds

Minimum Bet:

 $20

Maximum Bet:

 $1800

Maximum Win:

 $900,000

Progressive Slot:

 No

Auto Play Feature:

 Yes

Bonus Buy Feature:

 Yes

Bonus Round Feature:

 Yes

Free Spins Feature:

 Yes
Embark on an Extraterrestrial Adventure: Monkey King: Path of Treasure is not your average slot game. Its diverse theme makes it stand out from the crowd, offering players a chance to explore a universe where aliens and mythical creatures collide. The Monkey King, a legendary Chinese folklore character, takes center stage in this visually captivating slot.
Special Features to Boost Your Wins:
Multipliers:

 Look for multiplier symbols that can significantly boost your winnings, turning every spin into a potential jackpot.

Scatters:

 Scatter symbols can lead to exciting bonus rounds and free spins, where the real treasures await.

Wilds:

 Wild symbols substitute for other symbols, helping you create winning combinations.
Bet Big or Small: With a minimum bet of $20 and a maximum bet of $1800, Monkey King: Path of Treasure accommodates players with various budgets. Whether you're a casual gamer or a high roller, this game offers a betting range to suit your style.
Exciting Bonus Features:
Auto Play Feature:

 Sit back and relax while the game spins automatically, allowing you to enjoy the action without constant manual input.

Bonus Buy Feature:

 Want to jump straight into the action? The bonus buy feature lets you access the bonus rounds instantly.

Bonus Round Feature:

 Trigger exciting bonus rounds that can lead to massive wins and uncover hidden treasures.

Free Spins Feature:

 Free spins provide additional opportunities to strike it rich, with the chance to win big without spending a dime of your own money.
No Progressive Jackpot, but Massive Wins Await: While Monkey King: Path of Treasure doesn't feature a progressive jackpot, the maximum win of $900,000 offers plenty of incentive to spin the reels and aim for those astronomical payouts.
Join the Monkey King on his quest for treasures among the stars and discover a world of excitement, big wins, and out-of-this-world adventures in Mancala Gaming's Game of the Month: Monkey King – Path of Treasure! It's time to embark on a gaming journey like no other. Good luck!
Pioneering iGaming with Monkey King: Path of Treasure
Mancala Gaming, the dynamic game development hub nestled in the heart of Prague, is once again revolutionizing the online casino landscape with its latest masterpiece, Monkey King: Path of Treasure, proudly chosen as the prestigious Game of the Month. This latest gem underscores Mancala Gaming's unyielding dedication to quality and innovation and solidifies their status as trailblazers in the iGaming realm. Much more than a mere slot game, Monkey King: Path of Treasure is a testament to Mancala Gaming's commitment to melding captivating aesthetics seamlessly with intricate gameplay mechanics. The game has already won the hearts of several casino players worldwide. How come? Well, the stunning visual effects, dynamic gameplay, smashing mechanics, and generous winning potential are just a few of the highlights of the Monkey King: Path of Treasure Slot. It's no wonder it has earned its well-deserved title as the Game of the Month, setting a new standard for immersive casino entertainment.
An Enchanting Journey with the Monkey King
Media Partner
Rated 93.70/100%
122 Casinos | 46 Games
All Casinos
As players venture into the vibrant realm of the revered Monkey King, they are transported into a meticulously crafted narrative intricately woven from the rich tapestry of Chinese folklore. In this mesmerizing tale, the hero, the Monkey King, embarks on a captivating quest, ignited by the discovery of ancient scrolls that tantalizingly hint at a temple brimming with unimaginable wealth, awaiting the bold souls who dare to seek it. As you delve deeper into this enchanting storyline, you'll find yourself drawn into a world where every spin of the reels feels like a chapter in an epic adventure. If you consider yourself an adventurer at heart, then this game is designed specifically for you. It has everything from wild adventures to hidden treasures, making the casino product a must-try this month. Whether you're a fan of Chinese folklore, a seeker of riches, or simply someone in search of an exhilarating gaming experience, Monkey King: Path of Treasure promises to be a captivating journey filled with excitement, surprises, and the potential for cosmic wins that will leave you craving for more.
Innovative Gameplay Dynamics
Mancala Gaming has meticulously designed the game mechanics to offer both novices and seasoned players an absolutely unique gaming experience that transcends the ordinary. The visuals and sound effects will make you fall in love with this particular game in less than no time. Seldom does such an innovative casino product enter the iGaming Industry, so make sure you do not miss the opportunity to spin its revolutionary reels. What is more, the quest to accumulate 10 progress points, the key to unlocking the coveted Free Spins bonus game, becomes all the more riveting as each set of three scatter symbols contributes a progress point. However, there's more to it than meets the eye; the inclusion of Wild symbols augments the chances of winning and propels the Multiplier Meter by +1 with each appearance, introducing an intricate layer of strategy and anticipation to the gameplay.
Player-First Features
Beyond the spellbinding narrative and intricate gameplay dynamics, Monkey King: Path of Treasure embodies Mancala Gaming's fundamental principle of delivering experiences that put players first and foremost. Innovative features such as the Buy Bonus option empower players, granting them heightened control over their gaming voyage and guaranteeing an experience that caters meticulously to their unique preferences, tactics, and desires. This feature provides you will the opportunity to take your gameplay to a whole new level. In what way, you might ask. The answer is simple, you will get the chance to land even bigger winnings with one button click. Thus, make sure you benefit from the fascinating features the Monkey King: Path of Treasure has on offer.
Embark on Your Mythical Odyssey
Enter the enchanting world of age-old folklore and immerse yourself in a mesmerizing fusion of strategy and chance as you set forth to explore the captivating wonders concealed within Monkey King: Path of Treasure. Trust us, this will be a wise decision. The game now stands ready at the doorsteps of all partner casinos, beckoning players from far and wide to embark on their own epic odyssey in pursuit of untold riches, adventure, and endless entertainment. Needless to say, on our site, you can find an array of online casinos which are powered by Mancala Gaming. Each of these brands have proven to deliver impeccable gambling experience, life-changing winnings, and a personalized approach towards its customers. So, the addition of this spectacular casino game will make Mancala Gaming Casinos even more attractive to the wider online gambling community.
For those who prefer to test the waters before fully committing, Monkey King: Path of Treasure can also be experienced in demo mode on the Mancala Gaming website, offering a tantalizing glimpse of the mesmerizing gameplay, captivating visuals, and the sheer excitement that awaits. Remember that when playing in demo mode you do not put your funds at risks. On the other hand, you simply experience first-hand the fascinating mechanics of the game and get insight into its particularities; something of immense importance, especially when trying out a completely new casino product.
Conclusion: A Paradigm Shift in iGaming
Monkey King: Path of Treasure is not merely a slot game; it represents a seismic paradigm shift in the realm of iGaming. Mancala Gaming's unrelenting commitment to pushing the boundaries of innovation and its steadfast dedication to delivering player-centric experiences shine brilliantly in this exceptional release. For online casino enthusiasts who yearn for more than the ordinary and who seek an immersive and profoundly rewarding gaming voyage, Monkey King: Path of Treasure beckons with its captivating storyline, inventive gameplay, and the promise of untold treasures.
So, answer the call and join the Monkey King on his noble quest. Brace yourself for a remarkable journey through a world brimming with wonder, excitement, and the allure of bountiful riches. Let the path to treasure unfold before your very eyes as you partake in this epic odyssey, where every spin of the reels holds the potential to unveil boundless adventure and unimaginable wealth. The time to experience Monkey King: Path of Treasure is now, and the choice is yours to make. Will you heed the call and embrace the extraordinary?
Latest Releases by Mancala Gaming
Take a look at the last 10 slot releases by the awesome software provider Mancala Gaming.