Big Wins/Jackpots
Game Providers
Industry News
Media Partners
New Slots
Press Releases
Mancala Gaming's Money Pipe Slot Takes You on an Epic Oil Adventure
Mancala Gaming's latest creation, Money Pipe, invites players into a captivating realm where the opulence of the oil industry converges with strategic gameplay. Amidst the backdrop of oil derricks and untapped reserves, players step into the shoes of aspiring magnates aiming to strike virtual black gold. With a 20-line layout, the game seamlessly blends skill and chance, offering features like Wilds and a Jackpot Bonus Game that promise untold riches. Money Pipe isn't just a game; it's an immersive journey that lets players chart their destiny in the thrilling world of virtual oil exploration and riches.
Mancala Gaming's Money Pipe Slot Takes You on an Epic Oil Adventure
Media Partner
Rated 93.70/100%
122 Casinos | 46 Games
All Casinos
Get ready to dive into an intoxicating fusion of luxury and ambition as Mancala Gaming proudly presents its newest gem, Money Pipe. This remarkable slot game immerses players in a world where the oil industry's allure meets the thrill of mastering the markets. With the expertise of an award-winning software provider behind it, Money Pipe promises a journey that transports you into the shoes of a visionary magnate, embarking on a captivating voyage of wealth and exploration.
Say hello to a virtual realm where prestige and prosperity intertwine. Against the backdrop of oil derricks, cargo barges, and the promise of untold fortunes, Money Pipe invites you to step into the shoes of an aspiring tycoon. Your mission? To unearth the coveted black gold, those hidden riches that have the potential to transform your virtual wealth into an empire of staggering proportions. Engage in negotiations that rival the oil barons of old, strategically deploy oil derricks, and unveil secret reserves concealed beneath the surface. In this cutthroat competition, the race to secure prime locations is your gateway to triumph.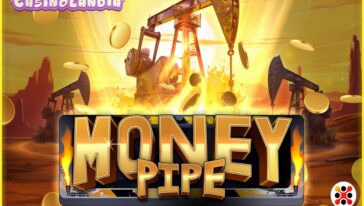 With a meticulously crafted 20-line slot layout, Money Pipe transcends the ordinary, blending skill with serendipity. Explore the depths of the game's features – from Wilds that ignite your chances to Special Symbols that unveil secrets – all the way to the Jackpot Bonus Game, where fortunes wait to be seized. With every spin, the virtual world transforms, and the possibilities of untold wealth come alive. Money Pipe isn't just a game; it's a strategic battlefield where oil's power and your tactical prowess converge to shape your destiny.
As the sun dips below the horizon, the uncharted seas of riches beckon. Reserves, once hidden from the world, are poised to anoint you as a virtual oil magnate. Are you prepared to rise to the challenge? To steer the tides of fate in your favor? The invitation is clear – in the realm of Money Pipe, the only limit is your ambition.
In an age where pixels paint dreams and gaming bridges the real and the imagined, Mancala Gaming's masterpiece introduces you to a world of complexities. With each spin of the reels, you're not merely a player; you're a visionary crafting your legacy in the volatile oil industry. With every derrick deployed and every deal negotiated, you inch closer to that shimmering Jackpot Bonus Game, where supremacy awaits.
The symphony of prosperity plays on, and you're the conductor. The symbols align to compose your journey, and every move you make brings you closer to that coveted black gold. The virtual oil industry bends to your strategy, and Money Pipe ensures that your voyage is a narrative waiting to be written.
So, are you ready to redefine your gaming experience? To immerse yourself in a world where luxury meets ambition and virtual oil flows like liquid gold? Money Pipe offers a passage into a universe where untapped riches and hidden treasures are yours to claim. Craft your strategy, outmaneuver your rivals, and let the journey redefine your gaming reality. Your destiny flows through the pipes of virtual wealth, and it's time to claim your fortune.
Latest Releases by Mancala Gaming
Take a look at the last 10 slot releases by the awesome software provider Mancala Gaming.