Hellcatraz 2 Dream Drop Slot: Break Free for Epic Jackpots
Hellcatraz 2 Dream Drop Slot by Relax Gaming offers an electrifying escape from monotony. With upgraded features and a thrilling pursuit of the Dream Drop Jackpots, this game takes you on a heart-pounding journey. Discover the secrets hidden within the prison walls as Mystery symbols unveil glittering coins and expand to towering heights. Brace yourself for a wild ride filled with flying objects and underwater dangers. It's time to break free, spin the reels, and claim your slice of paradise!
Hellcatraz 2 Dream Drop Slot: Break Free for Epic Jackpots
Rated 94.76/100%
251 Casinos | 204 Games
All Casinos
Get ready to break free from the confines of boredom because Hellcatraz 2 Dream Drop Slot by Relax Gaming is here to blow your mind! After spending two years locked up behind bars, you're back in action, and this time, the prison has undergone an epic upgrade that will leave you begging for more.
Prepare yourself for an exhilarating chase towards the coveted Dream Drop Jackpots—a one-way ticket to paradise that's just within your grasp. But this isn't your ordinary prison escape; Hellcatraz has transformed into a thrilling playground filled with surprises and unimaginable rewards.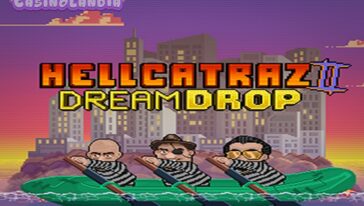 New
Watch in awe as Mystery symbols reveal dazzling coins and expand to a towering height of up to five symbols. It's like unlocking hidden treasure chests within the walls of this ancient penitentiary. The stakes are high, and the challenges are greater than ever before, but remember, you've done it once, and you can do it again. It's time to unleash your inner cunning and outsmart every obstacle that comes your way.
From gravity-defying flying objects to heart-pounding underwater dangers, Hellcatraz is a rollercoaster ride that will keep you on the edge of your seat. Get ready to experience thrills and spills like never before as you navigate through the twists and turns of this electrifying slot game. It's not just about winning; it's about the adrenaline rush that comes with every spin.
But let's talk business—bets that is! Whether you're a cautious gambler or a high roller, Hellcatraz 2 caters to all. With a minimum bet of a mere EUR 0.20, even the most risk-averse players can join the action. But for those who thrive on taking big risks and chasing monumental wins, buckle up and go all-in with a maximum bet of EUR 100. It's time to go big or go home!
By and large, Hellcatraz 2 Dream Drop Slot is your golden ticket to an adventure of a lifetime, where excitement, strategy, and life-altering wins await. Break free from the mundane and immerse yourself in a world where the thrill of the chase reigns supreme. Spin the reels, unleash your inner mastermind, and make history as you chase down the elusive Dream Drop Jackpots. Will you crack the code and walk away with unimaginable riches? The power is in your hands. It's time to prove your mettle and show the world that you're the ultimate jailbreak artist.
So gather your wits, channel your inner daredevil, and embark on a quest that will redefine online gambling as you know it. Hellcatraz 2 Dream Drop Slot is the key that unlocks an adventure beyond your wildest dreams. Get ready to experience the rush, claim your place among the elite, and conquer the prison of fortune. The countdown has begun. It's time to break free and seize the rewards that await. Are you ready to unleash the ultimate jailbreak adventure? Let the games begin!
Latest Releases by Relax Gaming
Take a look at the last 10 slot releases by the awesome software provider Relax Gaming.