Big Wins/Jackpots
Game Providers
Industry News
Media Partners
New Slots
Press Releases
Cash Legion – Mancala Gaming's Zombie Adventure Extravaganza
Embark on an adrenaline-pumping adventure like no other in Cash Legion by Mancala Gaming - a thrilling post-apocalyptic escapade set in a world plagued by the sinister Mancala Corp. Join the valiant Savers team, led by the fearless Ember Fischer, as they confront the zombie horde and unveil the dark secrets behind the apocalypse. With an expanding Wild, Necro Kong, and the chance to win up to a mind-boggling 20,000x your bet on every spin, the excitement never stops. Immerse yourself in a gripping narrative and rewrite history in this one-of-a-kind, story-driven gaming experience, available now for all zombie-slaying online casino players!
Cash Legion – Mancala Gaming's Zombie Adventure Extravaganza
Media Partner
Rated 93.70/100%
122 Casinos | 46 Games
All Casinos
Feast your eyes on the gaming wonder of the decade – Cash Legion by none other than Mancala Gaming! Hold onto your hats (and your brains) because this ain't your run-of-the-mill slot game. Oh no, it's an exhilarating, post-apocalyptic quest that will leave you spinning, both literally and figuratively!
In a world haunted by the enigmatic Mancala Corp, things have gone horribly awry. No ordinary corporation, mind you; these guys dabbled in the dark arts of experimentation, and guess what? They inadvertently unleashed a full-fledged zombie apocalypse! Whoops, talk about a major oopsie.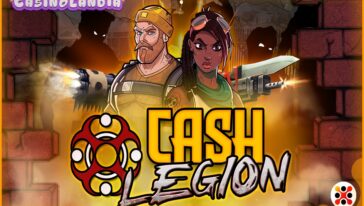 But fear not, dear players, for amidst the chaos, a glimmer of hope shines bright – the haunting figure known as Necro Kong. He's not your typical cuddly primate; he's a symbol of Mancala Corp's sinister past, and he's got the undead hordes on speed dial. Yikes!
Yet, hope isn't lost! Here to lead the charge against the encroaching darkness is the fearless Ember Fischer, captain of the valiant Savers team. With nerves of steel and a heart of gold, she's the last line of defense against the zombie hordes. No pressure, Ember.
So, what's the deal with Cash Legion? Let's spill the beans! At its core, it's a 4×5 reel slot game, but it's got more tricks up its sleeves than a magician at a birthday party. The star of the show is the expanding Wild, none other than the eerie Necro Kong himself. Watch in awe as he stretches across the reels like a giant cat taking a luxurious stretch – but instead of cute purrs, he brings you fantastic winning combinations!
But wait, there's more! Brace yourselves, we mean, get ready for this jaw-dropping fact: you can win up to an unimaginable 20,000x your bet with every spin! The adrenaline rush alone might make your heart pound louder than the zombie's incessant moaning.
Here's the real kicker, folks – Cash Legion isn't just about spinning reels mindlessly. Oh no, no, no! This game is all about immersing yourself in a gripping narrative that'll have you hooked for hours. Think of it as being in the driver's seat of a thrilling Hollywood blockbuster, but instead of Tom Cruise, you're the hero!
Now, if you're thinking, "I need a piece of this undead action," then you're in luck! Cash Legion is right at your fingertips, available in demo mode on Mancala Gaming's website. Test your mettle, see if you've got what it takes to survive the zombie apocalypse, and come out victorious.
But hey, we're not done yet. Cash Legion has got more partners than a professional dancer, and they're all itching to welcome you into their casinos with open arms. It's like a zombie reunion party, only with bets, wins, and unending excitement! Whether you're a seasoned casino pro or a newbie looking for a thrill, everyone's welcome in this post-apocalyptic party!
So gear up, grab your lucky charm, and prepare to embark on the adventure of a lifetime! Rewrite history, save the world from the undead menace, and make those reels spin like never before. Cash Legion is waiting to crown its triumphant champions, and who knows? Maybe you'll walk away with more than just a pocketful of winnings.
So there you have it, fearless players! The undead enigma of Cash Legion awaits your brave souls. It's time to unravel the mysteries, face the zombie horde, and triumph against all odds. Get ready for a gaming experience like no other, and remember – in a world overrun by the undead, the only safe bet is to join the Cash Legion and conquer the apocalypse!
Latest Releases by Mancala Gaming
Take a look at the last 10 slot releases by the awesome software provider Mancala Gaming.