Big Wins/Jackpots
Game Providers
Media Partners
New Slots
Press Releases
Twin Spin XXXtreme: A Game-Changing Slot Experience
NetEnt introduces Twin Spin XXXtreme, a game-changer in the online gambling world. With electrifying twists and dazzling features, this turbocharged version of the beloved franchise takes excitement to unprecedented heights. Experience the magic of synchronized reels and mind-blowing win multipliers, propelling players into a whirlwind of thrilling gameplay. Get ready to redefine the limits of online casino entertainment with Twin Spin XXXtreme!
Twin Spin XXXtreme: A Game-Changing Slot Experience
Rated 97.62/100%
332 Casinos | 183 Games
All Casinos
NetEnt has just unleashed a whirlwind of excitement with its latest casino product, Twin Spin XXXtreme! Prepare for a gaming extravaganza that will leave you breathless as this beloved franchise gets a turbocharged makeover, taking the iGaming Industry by storm!
Building upon the fan-favorite Twin Reels feature, Twin Spin XXXtreme takes things to a whole new level of intensity. Imagine this: with every spin, the symbols on one reel magically duplicate themselves onto an adjacent reel, igniting the potential for epic wins across mind-boggling 729 paylines!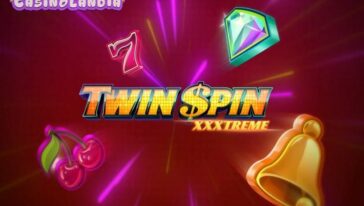 But that's not all, my friends! Get ready for an adrenaline rush like no other with some jaw-dropping multipliers that will send your winnings skyrocketing faster than a spinning roulette wheel. When three reels synchronize, lucky players can unlock random win multipliers of up to 5x. Hold onto your hats, because when all six reels become twins, the game grid transforms into a symphony of synchronized symbols, and an astonishing random win multiplier of up to a mind-blowing 40x awaits those who dare to tread this thrilling path!
If you think that's the peak of excitement, prepare to be blown away by the XXXtreme Spins feature! NetEnt has cranked up the heat by offering two heart-pounding options for players to choose from. Option one guarantees that three reels will become twins with each spin, accompanied by a maximum random win multiplier of 5x. Feeling daring? Then unleash your inner risk-taker with option two, where four reels synchronize, unleashing a frenzy of winning potential with an incredible random win multiplier of 10x!
Nicholas Peters, the Chief Business Development Officer in Europe at Evolution, couldn't contain his enthusiasm for this groundbreaking addition to the NetEnt franchise. "Paying tribute to the decade-long legacy of this beloved game, the team has created an extraordinary slot that brings an XXXtreme twist to the expanding NetEnt family," Peters exclaimed. "The immensely popular XXXtreme Spins feature elevates the experience, boosting the guaranteed number of Twin Reels. With captivating visuals, a captivating soundtrack, and exhilarating gameplay, Twin Spin XXXtreme promises endless entertainment for players."
As you embark on this XXXtreme adventure, prepare to be dazzled by the mesmerizing visuals that transport you into a neon-lit wonderland of excitement. The pulsating soundtrack will have you grooving to its rhythm as you chase after those elusive wild symbols and electrifying win multipliers. NetEnt has masterfully combined immersive gameplay with an unrivaled party atmosphere that will keep you coming back for more!
So, it's high time you step into the XXXtreme and unleash your inner daredevil on the reels of Twin Spin XXXtreme. Get ready for a rollercoaster ride where the stakes are high, the wins are mind-blowing, and the excitement knows no bounds! Let the reels spin, and watch your fortunes multiply in this adrenaline-fueled extravaganza.
Latest Releases by NetEnt
Take a look at the last 10 slot releases by the awesome software provider NetEnt.