Big Wins/Jackpots
Game Providers
Industry News
Media Partners
New Slots
Press Releases
Pragmatic Play's Candy Blitz Slot: A Sweet Symphony of Winning Spins
Pragmatic Play's Candy Blitz slot is a delectable treat for online casino enthusiasts, offering a sugary adventure filled with vibrant candy symbols and tantalizing multipliers. With a 6x5 reel setup and an extra reel featuring lollipop multipliers ranging from 1x to a whopping 500x, players are in for a sweet surprise. The game's tumbling feature ensures continuous excitement as winning combinations trigger cascades of new symbols and multipliers. To top it all off, the potential for a 10,000x base bet win during the free spins round makes Candy Blitz a mouthwatering delight for those seeking sweet success in the world of online casinos.
Pragmatic Play's Candy Blitz Slot: A Sweet Symphony of Winning Spins
Rated 97.15/100%
311 Casinos
460 Games | 0 Live Games
All Casinos
Live Games
Slots
Tournaments
Get ready to indulge your sweet tooth and savor the taste of victory as Pragmatic Play unveils its latest mouthwatering creation, the Candy Blitz slot. This delectable release is set to captivate online casino players with its sugary delights, tantalizing multipliers, and a chance to trigger an irresistible free spins bonanza.
Candy Blitz is a sugary escapade that joins the ranks of Pragmatic Play's renowned sweet-themed games. With a 6×5 reel setup adorned with an assortment of vibrant candy symbols, this game beckons players to uncover the magic of winning combinations. To strike it rich, you'll need to match at least eight of these sweet treats.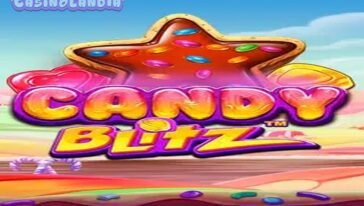 What sets Candy Blitz apart from the rest is the presence of an additional reel running alongside the primary game board. This reel introduces lollipop multipliers that can send your wins skyrocketing, ranging from a modest 1x to a jaw-dropping 500x. It's like having a secret stash of candy that just keeps on giving!
However, the real treat lies in the game's captivating tumbling feature. When you hit a winning combination, the candies involved disappear, making way for a cascade of fresh symbols. As this sweet avalanche continues, new multipliers drop into place after each win, creating a thrilling chain reaction that keeps players on the edge of their seats.
But wait, there's more! Land a quartet of chocolate scatter symbols, and you'll unlock the gateway to the free spins game. Here, the excitement reaches a fever pitch as the minimum multiplier starts at 2x, paving the way for tantalizing wins. The real magic happens when you're fortunate enough to land four additional scatters during the free spins round. This triggers a retrigger, opening the door to a mouthwatering maximum win of an astounding 10,000 times your base bet. It's a sugar rush of epic proportions!
Candy Blitz isn't just another slot game; it's a symphony of flavors and rewards expertly crafted by Pragmatic Play. Their commitment to delivering top-tier, engaging titles shines through yet again, cementing their position as an industry leader.
Irina Cornides, Chief Operating Officer at Pragmatic Play, couldn't be more thrilled about Candy Blitz. She expressed her excitement, saying, "We've taken the beloved theme of vibrant sweets and added new layers of excitement for players to enjoy. With cascading reels, multipliers aplenty, and a rewarding free spins round, Candy Blitz is poised to satisfy the sweetest of cravings."
Candy Blitz is more than just a slot game; it's a tantalizing escape into a world of endless possibilities and mouthwatering rewards. With its visually stunning design, immersive gameplay, and the potential for monumental wins, it's poised to capture the hearts and taste buds of online casino players worldwide.
So, if you're ready to dive into a sugar-coated adventure like never before, head to your preferred online casino. Be among the first to savor the irresistible allure of Candy Blitz. Your sweetest dreams of hitting it big are about to become a reality in this enchanting candy wonderland. Don't miss out on the chance to satisfy your cravings for excitement and prizes with Pragmatic Play's latest masterpiece. It's time to join the candy rush and spin your way to sweet success!
Latest Releases by Pragmatic Play
Take a look at the last 10 slot releases by the awesome software provider Pragmatic Play.