Big Wins/Jackpots
Game Providers
Industry News
Media Partners
New Slots
Press Releases
Plunge into the Viking Saga With Beerhalla Slot
Prepare for a Viking-themed gaming voyage like no other with Beerhalla by Mancala Gaming. This innovative slot game seamlessly combines traditional elements with exciting crash game mechanics. Set in a realm of clinking ale-filled tankards and fearless warriors, Beerhalla challenges players to navigate through hidden treasures while avoiding perilous symbols. With its delicate balance of risk and reward, this game requires skill, courage, and a dash of luck, catering to both seasoned gamers and those seeking a unique and thrilling casino experience.
Plunge into the Viking Saga With Beerhalla Slot
Media Partner
Rated 93.70/100%
122 Casinos | 46 Games
All Casinos
Immerse yourself in an extraordinary gaming adventure as Mancala Gaming unveils Beerhalla – a Viking-themed slot game that ingeniously melds the essence of tradition with a burst of innovation. With Beerhalla's release, Mancala Gaming reaffirms its commitment to pushing the boundaries of gaming by marrying the classic elements of slots with the exhilarating mechanics of crash games.
Step into the mesmerizing realm of Beerhalla, where players are whisked into a world where tankards brimming with ale clink in mirth and fearless Viking warriors set the stage for an unforgettable escapade. It's a high-stakes journey, a quest to navigate through a labyrinth of concealed treasures while deftly sidestepping ominous symbols that threaten your progress.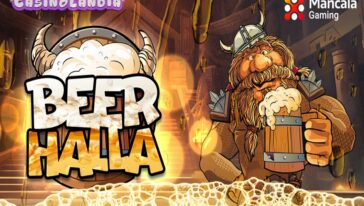 New
At the heart of Beerhalla lies a precarious balance between risk and reward. Players are granted the freedom to select their preferred betting amount and opt for varying difficulty levels as they set sail on their Viking voyage. The strategy is straightforward and challenging: unveiling hidden blocks while evading perilous red crosses. With each triumphant row, winnings swell, but lurking in the shadows are menacing skull symbols poised to obliterate your hard-earned wagers. Victory in Beerhalla requires a blend of skill, courage, and a dash of ale-fueled luck, making it an exhilarating challenge suitable for players of all calibers.
Mancala Gaming extends a hearty invitation to players, encouraging them to hoist their Viking flagons high and embark on this daring journey. Beerhalla offers an opportunity to showcase your mettle, a test of skill, courage, and a sprinkle of fortune infused with the spirit of ale, whether you're a seasoned gambler seeking an adrenaline-packed challenge or a casual player in search of a distinctive gaming experience, Beerhalla beckons.
The Viking saga unfolds as Beerhalla takes center stage at your preferred Mancala Gaming Casino. It's time to set sail, raise your flagons, and plunge headlong into the rich and riveting world of Beerhalla. With its fusion of tradition and innovation, this game guarantees a memorable gaming odyssey that will have you perched at the edge of your seat. Don't miss this chance to be part of the epic Viking saga – the quest for riches and glory awaits in Beerhalla.
Latest Releases by Mancala Gaming
Take a look at the last 10 slot releases by the awesome software provider Mancala Gaming.