Big Wins/Jackpots
Game Providers
Industry News
Media Partners
New Slots
Press Releases
Fruit Story: Hold The Spin – The Juiciest Slot Adventure
Get ready to embark on a mouthwatering adventure with Gamzix's latest release, Fruit Story: Hold The Spin. This visually stunning slot game combines vibrant graphics with simple yet captivating gameplay, featuring a variety of colorful fruits that will make your taste buds tingle. With its nostalgic charm and exciting bonus features, such as the thrilling Mystery Coin and the chance to unlock the prestigious Platinum Jackpot, this game is a fruit lover's dream come true. So, spin those reels, chase those coins, and get ready to indulge in a fruity frenzy like never before!
Fruit Story: Hold The Spin – The Juiciest Slot Adventure
Media Partner
Rated 93.68/100%
116 Casinos | 51 Games
All Casinos
Explore a world of fruity goodness with the newest slot release from Gamzix: Fruit Story: Hold The Spin. This game is a visual feast with its vibrant graphics and a gameplay format that's as sweet and simple as a perfectly ripe peach. Players will find themselves spinning the reels, filled to the brim with a colorful assortment of fruits, including cherries, oranges, lemons, watermelons, and grapes, all while aiming to align the mouthwatering symbols for a chance to win some juicy prizes.
Fruit Story: Hold The Spin is a delightful blend of nostalgia and straightforward mechanics that offers an entertaining experience for both casual players and devoted slot enthusiasts. With its 5 reels and 4 rows, along with 40 fixed paylines, it's a recipe for fruity excitement that will keep you coming back for more.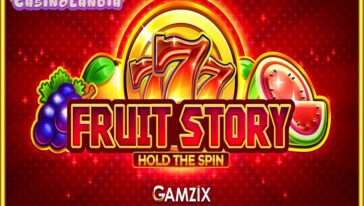 Prepare yourself for the thrilling Bonus Game, which kicks off when 6 or more Coins make an appearance on the reels. As you embark on this fruity adventure, you'll be granted 3 Free Spins to start with and keep your eyes peeled for the special Mystery Coin. This mysterious coin holds the potential to transform into a random jackpot, ranging from Bronze to Silver and even the elusive Gold. For the bravest of players seeking the ultimate challenge, collecting 20 Coins during the Bonus Game will unlock the prestigious Platinum Jackpot, where fortunes truly await.
Take a chance with the Gamble feature, where you can double your winnings regardless of whether you're in the regular game or the heart-pounding Bonus round. It's a gamble that even a bunch of grapes wouldn't shy away from!
Sharing his insights on the timeless appeal of fruit slots, Alexandr Kosohov, the CEO at Gamzix, says, "Fruit slots are like a burst of refreshing fun that never grows stale. They have a way of catering to every player's cravings and entertaining in the most delightful ways. It's like inviting the ultimate party guests to your reels – they bring a touch of class, a dash of vibrancy, and an element of surprise. That's the secret behind their enduring popularity!"
But wait, there's still more to savor in Fruit Story: Hold The Spin! With an impressive RTP of up to 96% and the potential for a maximum win of over x5200, the fruit-filled adventure promises a cornucopia of rewards. And don't forget about the Stacked symbols! They can make a grand entrance, covering a part of a reel or even taking over the entire reel, providing you with a bountiful harvest of winning opportunities.
So, get ready to be whisked away into a world bursting with fruity delights and winning excitement in Fruit Story: Hold The Spin. Let the reels spin, indulge in the juicy visual feast, and watch as the fruity magic unfolds before your eyes. This is your chance to immerse yourself in a slot adventure where cherries hold the key to fortune, and watermelons are your gateway to thrilling surprises. Get your fruit fix and get ready for a memorable journey that will leave you craving more. The time has come to experience the juiciest slot extravaganza ever created!
Latest Releases by Gamzix
Take a look at the last 10 slot releases by the awesome software provider Gamzix.