Big Wins/Jackpots
Game Providers
Industry News
Media Partners
New Slots
Press Releases
Explore the Mysteries of Egypt with Golden Glyph 3
Golden Glyph 3 by Quickspin is a mesmerizing journey into the mystique of Ancient Egypt, where players harness divine powers through Power Glyphs and Chaos Clusters. This innovative 7-reel slot game offers three distinct RTP versions to cater to a wide audience while maintaining market competitiveness. As players delve into the game's features, including Free Spins and an enticing Buy Feature, they can unlock the coveted max win of 10,000 for their initial bet. Golden Glyph 3 beckons players to embark on a grand adventure, explore the hidden treasures of Egypt, and seek legendary riches that await in every spin.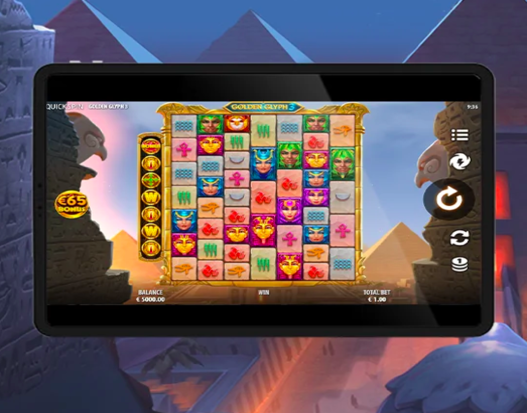 Explore the Mysteries of Egypt with Golden Glyph 3
Rated 94.13/100%
210 Casinos | 103 Games
All Casinos
Quickspin has once again raised the bar by introducing players to an extraordinary journey through time and mythology with their latest release, Golden Glyph 3. This enchanting slot game immerses players in the captivating world of Ancient Egypt, where the power of the gods can be harnessed through the use of Power Glyphs and Chaos Clusters. Step into this mythical realm and prepare to uncover treasures, bask in the glory of free spins, and enjoy unlimited multipliers that even the gods would envy.
Golden Glyph 3 is your portal to an ancient world where the legendary deity Horus once wielded Power Glyphs and Chaos Clusters with the ease of a child's play. Inspired by Horus's mastery of these divine powers, players quest to harness their potential. This slot game invites you to unravel the mysteries of Egypt in a thrilling adventure filled with epic proportions.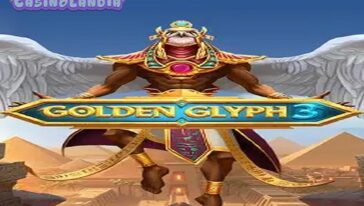 New
This 7-reel, high cluster-pay game introduces two of Quickspin's signature mechanics: Chaos Clusters and Power Glyphs. These distinctive features trigger thrilling Power-ups and unlock the gateway to the highly sought-after Free Spins bonus round, complete with an unlimited multiplier.
To cater to a diverse audience, Golden Glyph 3 offers three distinct RTP versions: 96%, 94%, and 87%, ensuring a wide appeal while maintaining healthy margins for various markets.
Among the captivating bonus features that await players are:
Free Spins: The Scarab Bonus Power Up symbol is your key to unlocking the Free Spins round, where your adventure begins with 6 free spins. During this round, every Scarab Bonus Power Up re-trigger awards an additional +2 spins while the Golden Glyph multiplier continues to ascend. The multiplier scales exponentially with each Scarab Bonus re-trigger, reaching impressive heights such as x2, x4, x8, and x16, culminating when the round concludes or the coveted max win of 10,000x bet is attained.
Buy Feature: If you're eager to dive directly into the heart of the action, Golden Glyph 3 allows you to purchase entry into the Free Spins round by paying a mere 65x your bet.
Max Win: As your winnings ascend to the formidable 10,000x your bet, the game round concludes, and you savor the glory of the maximum win, which equals 10,000x your initial bet.
Beyond these thrilling features, Golden Glyph 3 promises a myriad of other surprises and thrills, guaranteeing that every spin is an enthralling escapade.
Golden Glyph 3 invites players to unlock the secrets of Ancient Egypt while harnessing divine powers to achieve monumental winnings. With its inventive mechanics, alluring features, and limitless potential, this slot game entices online casino enthusiasts to embark on an unforgettable quest. So, step into the sandals of a true adventurer, seize the Power Glyphs, and embark on a journey across the reels in pursuit of untold riches. May the gods of fortune favor your expedition as you strive to claim colossal winnings!
Latest Releases by Quickspin
Take a look at the last 10 slot releases by the awesome software provider Quickspin.