Evil Geniuses and Thunderpick Unleash an Unforgettable CS:GO Bonanza
Prepare for an epic collision of gaming titans as Evil Geniuses and Thunderpick join forces in a mind-blowing partnership that will redefine the CS:GO landscape. With Thunderpick as the Marquee Partner for Evil Geniuses' formidable CS:GO teams, including the groundbreaking sponsorship of their women's team, the gaming world is about to witness a seismic shift. CEO Nicole LaPointe Jameson's excitement is contagious as she promises unparalleled fan experiences and intergalactic betting thrills. Thunderpick's commitment to fostering a diverse community within esports ensures a wild ride for CS:GO enthusiasts, with exclusive meet and greets, legendary prizes, and boosted odds on electrifying matches. Get ready to unleash the gaming beast within and embrace a new era of gaming glory!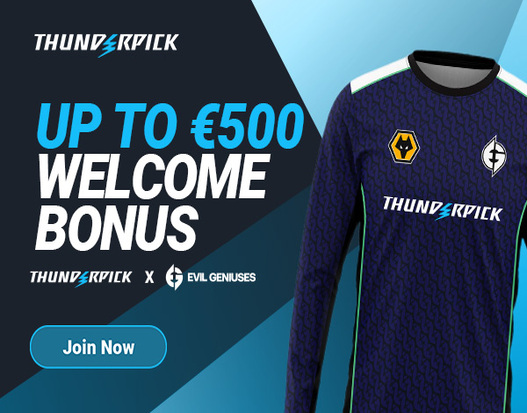 Evil Geniuses and Thunderpick Unleash an Unforgettable CS:GO Bonanza
Rated 98.89/100%
welcome bonus
100%/€500
30x wagering (Deposit & Bonus)
Hold on to your gaming chairs as Evil Geniuses and Thunderpick are teaming up to create a spectacle that will rock the CS:GO world to its very core! In a seismic announcement that's causing tremors of excitement, the global juggernaut of entertainment and esports, Evil Geniuses, has unleashed its explosive partnership with Thunderpick, the electrifying crypto betting platform crafted by die-hard esports fanatics. Get ready to have your gaming socks knocked off as these powerhouses redefine the meaning of adrenaline-pumping experiences!
Thunderpick, renowned for its cutting-edge wizardry and unwavering commitment to the esports community, is assuming the role of the Marquee Partner for not just one but all three of Evil Geniuses' awe-inspiring CS:GO teams: Blue, Black, and Gold. This collaboration is taking things up a notch by making history as the official sponsor of Evil Geniuses' women's CS:GO team, Gold, showcasing the unstoppable rise of women in the esports realm.
Nicole LaPointe Jameson, the CEO extraordinaire of Evil Geniuses, expressed her electrified enthusiasm, exclaiming, "We've struck gold with this partnership! Thunderpick shares our insatiable hunger for crafting mind-blowing experiences for esports enthusiasts. We're always on the lookout for fresh ways to elevate the fan experience, and with Thunderpick's commitment to providing a reliable and out-of-this-world betting environment, we're taking things to intergalactic levels of excitement. Brace yourselves because this partnership is going to set the gaming world ablaze!"
But Thunderpick isn't just here for the thrill; it is on a mission to ignite the gaming and esports communities, empowering talents within the North American Counter-Strike scene like never before. Kelly Sanders, the Head Strategist at Thunderpick, couldn't contain her exhilaration as she declared, "This partnership is a match made in gaming heaven! Evil Geniuses is a force to be reckoned with in the esports realm, and we're beyond thrilled to embark on this extraordinary journey together.
Thunderpick is all about fueling players' success, not only as exceptional gamers but as trailblazing creators and individuals. Together, we're propelling esports and gaming into uncharted territories. Get ready because we're about to unleash a storm of mind-bending experiences for CS:GO fans while captivating an even wider audience!"
With an unwavering commitment to innovation and impact, Evil Geniuses and Thunderpick are on the brink of revolutionizing the gaming landscape. But what does this mean for you, the passionate CS:GO fan? Prepare to have your gaming universe turned upside down as you're whisked away on a unique rollercoaster ride! Immerse yourself in unforgettable moments as you rub virtual elbows with your beloved players at exclusive meet-and-greets. From heart-pounding high-fives to coveted autographs, prepare to be starstruck like never before. And that's not all! Brace yourself for the ultimate treasure trove of envy-inducing branded merchandise and exclusive team content, catapulting you to the summit of CS:GO fandom.
But wait, there's an explosive cherry on top! Thunderpick is dialing up the excitement to dizzying heights by offering boosted odds and jaw-dropping specials on all Evil Geniuses CS:GO matches. Whether you're a die-hard fan seeking the ultimate rush or a seasoned gambler looking for the thrill of a lifetime, Thunderpick has got your back, ensuring your gaming experience is a white-knuckle adventure that will take your breath. Let the mind-blowing partnership begin, and may your gaming endeavors be filled with legendary victories, unforgettable moments, and the thrill that only Evil Geniuses and Thunderpick can deliver!
Hottest New Online Casinos 2023
Take a look at one of the hottest sports betting sites Thunderpick Casino