Big Wins/Jackpots
Game Providers
Industry News
Media Partners
New Slots
Press Releases
Endorphina Shoots for the Stars with Their Fruitiest Slot Yet
An otherworldly gaming experience awaits you with Endorphina's latest release, Multistar Fruits. This captivating slot game combines juicy fruit symbols with dazzling celestial stars, creating a cosmic adventure like no other. Watch as shooting stars grace the reels, bringing unique rewards and bonuses to lucky players. Embark on a journey through the starlit skies, spin the reels, and let the universe unveil its secrets in Multistar Fruits!
Endorphina Shoots for the Stars with Their Fruitiest Slot Yet
Media Partner
Rated 96.00/100%
289 Casinos | 136 Games
All Casinos
Hold on to your astronaut helmets, space cadets, because the renowned online casino game developer, Endorphina, has just dropped a cosmic bombshell! Prepare to have your gaming world rocked by the intergalactic extravaganza that is Multistar Fruits—an electrifying slot game that will take you on an unforgettable journey through the stars.
Buckle up and prepare for an out-of-this-world experience as Endorphina pushes the boundaries of imagination with their latest creation, Multistar Fruits. This mind-blowing slot game transcends the ordinary, offering a celestial playground where juicy fruits collide with breathtaking stars, creating a gaming phenomenon that is simply stellar.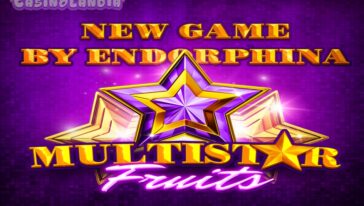 The game offers a 3-reel, 3-row layout boasting 5 paylines, perfectly designed to transport you into a universe of cosmic wonders. Multistar Fruits promises to tantalize your senses with an enticing array of fruity symbols, including succulent grapes, tangy cherries, zesty lemons, luscious plums, vibrant oranges, and juicy watermelons. But hold on tight because it's the celestial stars that will capture your attention and take your gaming experience to astronomical heights!
Prepare to be dazzled as shooting stars streak across the cosmic sky, gracefully landing on the reels to bestow upon you their otherworldly gifts. Each star is a celestial treasure, concealing its own unique rewards and bonuses. Brace yourself for an interstellar spectacle as you spin the reels, witnessing the magic unfold with every cosmic alignment. Some stars may trigger mind-blowing free spins, while others have the power to multiply your winnings, setting the stage for colossal cosmic riches!
Multistar Fruits invites you to embark on a cosmic journey like no other—a journey where the boundaries between reality and the infinite cosmos blur. Prepare to be enchanted by a visual feast of sparkling stars and a symphony of vibrant fruits that will leave you starry-eyed. Endorphina has truly outdone themselves with this cosmic masterpiece, crafting a game that is as visually stunning as it is rewarding.
Are you ready to unleash your inner space explorer and set off on an extraordinary quest? Look no further than Multistar Fruits, the key to unlocking a celestial wonderland. Soar through the starlit skies, savor the thrill of cosmic adventures, and let the universe guide you to unimaginable riches in this breathtaking slot game.
But wait, there's more! Multistar Fruits isn't just a game—it's an invitation to explore the mysteries of the universe. It's a chance to chase your dreams among the stars and revel in the excitement of an otherworldly gambling experience. With every spin, you'll be transported to a realm where the cosmos comes alive, where galaxies collide and constellations align in your favor.
So, dear cosmic adventurers, are you ready to embark on the most extraordinary gaming journey of your life? Prepare to witness the birth of a new era in online casino gaming with Multistar Fruits. Immerse yourself in a cosmic symphony of sights and sounds, and let the stars guide you to unimaginable fortune. The universe is calling—are you ready to answer?
Remember, the cosmos holds infinite possibilities. Your destiny lies among the stars. Let Multistar Fruits be your guiding light as you unlock the secrets of the universe and emerge as the true cosmic champion. The countdown has begun—prepare for liftoff and get ready to experience the gaming phenomenon that is Multistar Fruits! Good luck, and may the stars align in your favor as you embark on this interstellar adventure of a lifetime!
Latest Releases by Endorphina
Take a look at the last 10 slot releases by the awesome software provider Endorphina.