Big Wins/Jackpots
Game Providers
Industry News
Media Partners
New Slots
Press Releases
Embark on a Quest for Riches in NetEnt's Lost Relics 2
Lost Relics 2 transports online casino players into the heart of an ancient temple, where hidden treasures and exhilarating gameplay await. Featuring the innovative Cluster Pays mechanic, players break symbol tiles to reveal concealed chests, brimming with surprises like multipliers, random wilds, instant cash rewards, Free Spins, and the coveted Level Up bonus. As the adventure unfolds in the depths of the jungle, the Free Spins round offers endless excitement with accumulating multipliers and an expandable 10x10 gaming grid. Lost Relics 2 is more than just a slot game; it's an immersive quest for riches, inviting players to embark on a journey of discovery.
Embark on a Quest for Riches in NetEnt's Lost Relics 2 Slot
Rated 97.62/100%
332 Casinos | 183 Games
All Casinos
NetEnt has once again raised the stakes with the unveiling of Lost Relics 2, a game that beckons players to embark on a thrilling expedition into the depths of an ancient temple. This is not just a slot game; it's an immersive journey that invites players to become intrepid explorers in search of hidden treasures and boundless excitement.
Lost Relics 2 introduces a unique Cluster Pays mechanic that adds a fresh layer of excitement to the gaming experience. Traditional paylines are cast aside in favor of matching symbol tiles that shatter upon spinning the reels, revealing concealed chests tucked away behind the gaming grid. Your mission? To unveil these chests and unlock the incredible rewards they hold within. Each chest promises a wealth of surprises, including valuable multipliers, random wilds that can significantly boost your winnings, instant cash rewards, Free Spins, and the coveted Level Up reward. These features not only elevate the gameplay but also present numerous opportunities for substantial wins during the bonus game.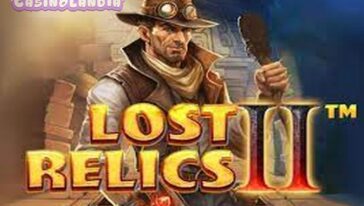 New
Lost Relics 2 is an immersive adventure that whisks players away to the heart of an enigmatic jungle. With every spin of the reels, the mysteries and treasures hidden within this ancient temple begin to unravel. The suspense is palpable, and the excitement is relentless as players edge closer to discovering the well-guarded secrets concealed within the sacred chambers.
The adventure continues to unfurl in the Free Spins round, where multipliers accumulate with each spin, promising a crescendo of excitement. What's more, players have the opportunity to expand the gaming grid to an impressive 10×10, thus maximizing their chances for Cluster Pays™. It's a game within a game, and the anticipation is electrifying. With each spin, players draw nearer to the climax of their quest, where unimaginable riches await those daring enough to seek them.
Lost Relics 2 transcends the boundaries of a typical slot game; it's a mesmerizing journey into an ancient mystery that captures the spirit of adventure. NetEnt has masterfully crafted an experience that not only promises thrills but also offers players the chance to win big through its innovative features and captivating gameplay.
So, are you ready to embrace the role of the fearless explorer who unlocks the jungle's secrets and unveils the hidden chests overflowing with riches? Lost Relics 2 beckons, extending an invitation to online casino enthusiasts to embark on an extraordinary quest. Your journey to untold wealth begins here, and with each spin, you inch closer to revealing the temple's most closely guarded treasures. Don't miss out on this adventure of a lifetime; step into the world of Lost Relics 2 and savor the thrill of the undiscovered!
Latest Releases by NetEnt
Take a look at the last 10 slot releases by the awesome software provider NetEnt.