Big Wins/Jackpots
Game Providers
Industry News
Media Partners
New Slots
Press Releases
Bones & Bounty: Thunderkick's Haunting High Seas Adventure
Thunderkick has revealed a new game set to plunge daring online casino players into the ghostly depths of Bones & Bounty. Prepare for an eerie, high-seas adventure aboard a spectral pirate ship captained by shadows and suspense. As moonlight paints an eerie glow upon tumultuous waves, players find themselves navigating a 6x4 grid adorned with symbols of compasses, telescopes, and enigmatic pirates. Their mission? To form winning combinations and lay claim to otherworldly riches.
Bones & Bounty: Thunderkick's Haunting High Seas Adventure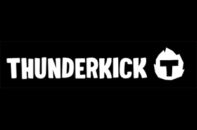 Rated 96.01/100%
323 Casinos | 69 Games
All Casinos
Thunderkick has unveiled a game destined to lead intrepid online casino players on a haunting voyage through treacherous waters. Welcome aboard the ghostly pirate ship of Bones & Bounty, where shadowy secrets and tantalizing treasures await. As the moonlight casts its eerie glow on the turbulent waves, players find themselves navigating a 6×4 grid populated with symbols of compasses, telescopes, and nefarious pirates. Their quest? To create winning combinations that promise unimaginable rewards.
What sets this game apart is the unexpected arrival of Wilds on any given spin during the base game. These aren't your run-of-the-mill Wilds; they appear in the form of Stacked Respin Wilds, which can take up to four positions on a single reel. When they land, they cling to their spots, triggering a heart-pounding respin and absorbing any Scatters that dare enter their bonus meter.
New
Gather at least three Scatters to unlock the coveted Cash Bonus game, where the supernatural takes center stage. Here, the Ghost Reel makes its spectral debut, boasting a starting multiplier of x2. As the game unfolds, you'll encounter a host of special symbols, including Cash Coins, Persistent Payers, and Cash Multipliers, each bringing its own eerie enchantment to the reels.
This supernatural journey takes a thrilling twist as each symbol that descends during the bonus round shifts the reels one position to the right. Cash Coins undergo a ghostly metamorphosis when they reach the Ghost Reel, multiplying their value exponentially. Cash Multipliers work their spectral magic, enhancing the Ghost Reel multiplier, while Persistent Payer symbols bestow increased values across the entire game grid, promising a wealth of spine-tingling winning opportunities.
But Bones & Bounty is not Thunderkick's first foray into the world of online casino gaming. It joins a prestigious lineup that includes previous releases such as Zap Attack! and Sword of Shoguns, which have captured players' hearts and wagers earlier this year.
Mike Collins, the Product Owner at Thunderkick, shares his excitement about this thrilling new release: "Get ready to set sail on a hair-raising journey… Bones & Bounty is full of thrills, and we're delighted to welcome players aboard our pirate ship headed straight towards big wins!"
Thunderkick has summoned an electrifying and spine-tingling odyssey with Bones & Bounty. The captain of this spectral ship invites online casino players to step into a world where every spin beckons adventure. With the allure of Stacked Respin Wilds in the base game and a bonus round that unfolds with multiplying specters and ghostly surprises, Bones & Bounty promises to be the game of choice for players seeking an eerily entertaining experience.
Latest Releases by Thunderkick
Take a look at the last 10 slot releases by the awesome software provider Thunderkick.