Big Wins/Jackpots
Game Providers
Industry News
Media Partners
New Slots
Press Releases
Mythical Fury with 8 Golden Dragon Challenge Slot
Pragmatic Play has unveiled the 8 Golden Dragon Challenge Slot, a groundbreaking fusion of Asian-inspired myth and gaming innovation. This slot game beckons players into a world of vibrant dragons and hidden treasures on a 3x5 reel grid with 10 paylines. The bonus round introduces eight miniature slot machines, where landing adjacent dragons triggers electrifying respins. For the boldest adventurers, filling an entire reel with dragon symbols unlocks an envelope bonus with instant cash prizes and multiplying thrills, offering a gaming experience that is visually captivating and rewarding.
Mythical Fury with 8 Golden Dragon Challenge Slot
Rated 97.15/100%
271 Casinos
436 Games | 0 Live Games
All Casinos
Live Games
Slots
Tournaments
Pragmatic Play has unveiled its latest marvel for online casino aficionados – the 8 Golden Dragon Challenge Slot. This new creation invites players to journey through an Asian-inspired realm of ancient dragons and hidden treasures on a 3×5 reel grid with 10 paylines, promising a gaming experience.
As you enter the enchanting world of the 8 Golden Dragon Challenge, you'll find yourself amidst a dazzling array of majestic dragons, each adorned in vibrant and captivating hues. Your mission: to unite these elusive creatures across the paylines and claim your share of the dragon's bountiful riches. It's an adventure that ensures excitement at every turn and rewards beyond your wildest imagination.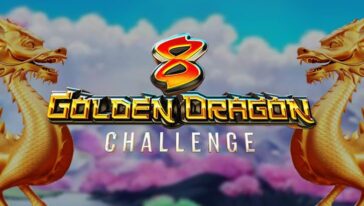 New
To truly harness the power of these mythical beings, you must unlock their secrets by acquiring three scatter symbols. These symbols serve as your gateway to the heart-pounding bonus round, where fortunes hang in the balance with every spin.
As the bonus round unfolds, you'll be greeted by a mesmerizing sight: eight miniature slot machines, each one whirring with anticipation. Your challenge is to land three adjacent dragons on any of these miniature slots, setting off an electrifying respin feature. It's a test of your fortune and audacity, with unimaginable rewards awaiting those who dare to take on the challenge.
Yet, in this mystical realm, not all dragons are equal. Should a mini slot machine lack three adjacent dragons on its reels, it will remain locked, no longer spinning its reels. Your destiny lies in your hands as you decide which mini-slots to pursue and which to relinquish.
The choices you make in this dragon-guarded kingdom will determine your triumph. Will you play it safe and go for guaranteed wins, or will you risk it all in your quest for those elusive adjacent dragons that promise legendary wealth?
For the most daring of adventurers, there's an additional layer of excitement to uncover. If you manage to fill an entire reel with dragon symbols, you'll awaken the elusive envelope bonus. This enigmatic bonus holds instant cash rewards and a progressively increasing multiplier that can send your winnings soaring to uncharted heights.
Your heart will race with anticipation as the multiplier escalates with each envelope you unveil. The dragon's fury is unchained, and you could emerge from the challenge with a fortune that will be recounted in legends.
With the 8 Golden Dragon Challenge, Pragmatic Play beckons online casino enthusiasts into a world where mythical beings protect untold treasures and every spin weaves a tale of adventure. The fusion of Asian inspiration with cutting-edge gaming technology delivers an experience that is as visually captivating as it is gratifying.
Get ready to immerse yourself in a universe where dragons rule supreme, where the path to riches is paved with valor and strategy. Pragmatic Play has yet again raised the bar, offering a slot game that will captivate players across the globe, capturing both their imaginations and their wallets.
The 8 Golden Dragon Challenge Slot is not just another game; it's an epic odyssey waiting to be conquered. Will you be the one to tame the dragons and seize the ultimate prize? The challenge beckons and the rewards are beyond your wildest dreams. Step into the dragon's lair today and embark on a legendary adventure!
Latest Releases by Pragmatic Play
Take a look at the last 10 slot releases by the awesome software provider Pragmatic Play.