Big Wins/Jackpots
Game Providers
Industry News
Media Partners
New Slots
Press Releases
Mice & Magic Wonder Spin Slot – A Magical Adventure Awaits
BGaming's upcoming release, the Mice & Magic Wonder Spin Slot, is poised to captivate online casino players with its enchanting gameplay. Set in a magical world where brave mice guard their treasured cheese, players will embark on a 10-spin cycle filled with wonder and excitement. The game features a remarkable Wild Frames feature, promising a flurry of Wilds and the potential for substantial wins. With the integrated Buy Bonus option, players can access Free Spins rounds with varying Wilds, making this slot a must-play for those seeking an extraordinary gaming adventure.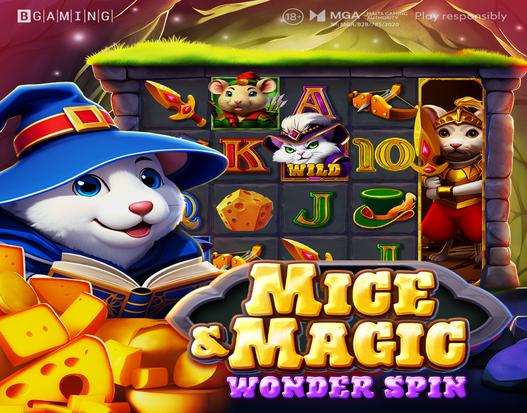 Mice & Magic Wonder Spin Slot – A Magical Adventure Awaits
Media Partner
Rated 94.79/100%
245 Casinos | 142 Games
All Casinos
Slots
Table Games
Tournaments
BGaming will unveil a spellbinding adventure that will entranced online casino players. Get ready for a journey into the whimsical as BGaming prepares to launch its latest creation, the Mice & Magic Wonder Spin Slot, scheduled for release on September 21st this year. This captivating slot game promises to sprinkle enchantment into every 10th spin, keeping players spellbound and eager for more.
Picture a fairytale world tucked away in a distant land, where a hidden village thrives in enchantment. Here, fearless mice stand as guardians of their precious treasure, a delectable stash of cheese that has ignited the covetous desires of many throughout history. Yet, these brave mice have thwarted every attempt to pilfer their cherished cheese. Now, they face their greatest adversary yet, the cunning Graf Cat Marquis III, who emerges as the formidable Wild symbol in this extraordinary slot adventure.
The Mice & Magic Wonder Spin Slot offers a gaming experience that defies convention. Players will immerse themselves in a 10-spin cycle packed with excitement and enchantment at every turn. During this cycle, special symbols will descend upon the reels, marking frame cells and evolving into Wilds on the final spin. But that's not all – if the special symbol lands on a cell that's already marked within a single cycle, it adds an x1 multiplier to the final payout, elevating the potential for magical wins.
One of the most alluring features of this captivating slot is the integrated Buy Bonus option, which grants players access to the heart of the enchantment. With this option, players can purchase a Free Spins round that promises a tantalizing array of 0, 4, or even 9 Wilds! Visualize the possibilities as you spin the reels with the power of these Wilds at your disposal, unlocking the treasure trove of potential riches that beckons.
The true wonder of Mice & Magic lies in its Wild Frames feature, a spectacle that must be experienced firsthand to be fully appreciated. Imagine a cascade of Wilds, and then multiply that by 'more' – that's what you can expect from this extraordinary game feature. The Wild Frames feature transforms the reels into a mesmerizing display of magic, turning ordinary spins into extraordinary adventures.
As the reels spin, watch in awe as the Wilds flood the screen, generating winning combinations that defy the ordinary. The enchanting Wild Frames feature is where the real magic unfolds, promising players an exhilarating and captivating journey through the realm of online gaming.
Mice & Magic Wonder Spin Slot is not merely a game; it's an enthralling narrative waiting to be woven. BGaming has intricately crafted a captivating tale within every spin, immersing players in a fairy tale adventure. With each spin, you'll be transported to a world where magic reigns supreme and fortunes can change quickly.
Prepare to be captivated by the charming graphics, immersive soundscapes, and the promise of substantial wins that Mice & Magic brings to the table. BGaming, once again, showcases its talent in crafting unique and engaging slot experiences that keep players returning for more.
So, mark your calendars for September 21st, as BGaming's Mice & Magic Wonder Spin Slot is poised to cast its enchantment upon the world of online casinos. Get ready to join the courageous mice in their mission to safeguard their treasured cheese and unlock the magic concealed within this enchanting slot game. With Wilds, multipliers, and the Buy Bonus feature, this adventure offers endless thrills and the potential for epic wins.
Don't miss this chance to be part of an extraordinary journey into a world of wonder and magic. Join online casino players worldwide and be among the first to experience the enchantment of Mice & Magic Wonder Spin Slot. Your destiny beckons and the treasures of the hidden village await your grasp. Are you ready to spin the reels and claim your share of the magic? The adventure commences on September 21st!
Latest Releases by BGaming
Take a look at the last 10 slot releases by the awesome software provider BGaming.