Big Wins/Jackpots
Game Providers
Industry News
Media Partners
New Slots
Press Releases
Gemhalla Slot: Where Gods and Multipliers Collide
In a clash of myth and fortune, Gemhalla Slot invites you to witness the awe-inspiring spectacle of Norse deities channeling their divine energy into mind-boggling multipliers. Brace yourself as the tempestuous Tor, the God of thunder and lightning, graces your screens, unleashing a storm of electrifying wins like never before. Prepare to be enchanted by the mesmerizing Yggdrasil tree, pulsating with the life force of limitless riches, while Tor harnesses its power to transform your spins into epic adventures.
Gemhalla Slot: Where Gods and Multipliers Collide
Media Partner
Rated 94.79/100%
281 Casinos | 162 Games
All Casinos
Slots
Table Games
Tournaments
Embark on an electrifying adventure like no other as Gemhalla, the revolutionary slot title by BGaming, transports you to a realm where gods and multipliers intertwine. Brace yourself for a storm of excitement as Tor, the formidable Norse God of thunder and lightning, graces your screens and brings with him an unrivaled surge of multiplying power!
Gemhalla weaves together the rich tapestry of Norse mythology, immersing players in a world of divine marvels and ancient Scandinavian culture. Stand in awe as Tor, standing tall beside the mythical Yggdrasil tree, breathes life into the game's thematic essence. But in this electrifying twist, the tree serves as an infinite source of thrilling winnings, ready to bestow its bounties upon fortunate players. Prepare to be astounded by the thunderous multipliers that await!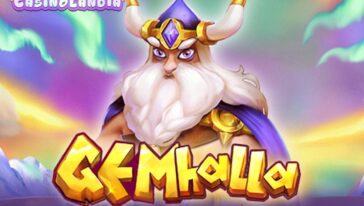 Hold your breath as the captivating multiplier symbols make their presence felt both in the main game and during exhilarating Free Spins. Marvel at their synergistic dance as these symbols unleash their combined might, setting the stage for mind-boggling rewards. In the main game, witness the magic unfold as multiple multiplier symbols converge in a single spin, amplifying the excitement and paving the way for colossal payouts. But keep your eyes peeled for the real electrifying spectacle during Free Spins, where Tor harnesses his divine powers to gather all the multipliers at his disposal, infusing your total winnings with a surge of unprecedented magnitude. Prepare for an awe-inspiring deluge of rewards that will leave you thunderstruck!
Gemhalla doesn't stop at just weaving a captivating narrative and introducing divine multipliers; it takes innovation to soaring heights with its groundbreaking Refilling feature. Brace yourself for a cascading spectacle, where winning combinations disappear into thin air, making room for new symbols to descend from the heavens and fill the reels once more. It's a whirlwind of exhilaration as you find yourself caught in an unending cycle of triumph, with each spin offering the chance to land consecutive wins. As the reels keep refilling and the wins keep pouring in, you'll find yourself on an enchanting rollercoaster of anticipation and prosperity!
Calling all seekers of legendary tales, history enthusiasts, and devotees of ancient Scandinavian lore – Gemhalla invites you on a mesmerizing journey through time. Immerse yourself in the game's meticulously crafted aesthetics, where the essence of Norse mythology comes alive on your screens. But fear not, for you need not be a sage of Odin's wisdom or an expert on Valkyries to revel in the spoils of this game. Gemhalla caters to players of all backgrounds, offering an irresistible blend of thematic immersion and multiplying thrills. Get ready to be enthralled as you chase those magnificent multipliers on a quest for unrivaled triumph!
Let yourself be enchanted by the immersive theme as every spin immerses you deeper into a realm where gods and multipliers hold sway. With an impressive RTP of 97.00% and a tantalizing hit rate of 3.90, the odds are ever in your favor. And let's not forget the pièce de résistance – Gemhalla boasts a staggering max multiplier of x5000, poised to strike with lightning-like precision and electrify your bankroll in ways you never thought possible. Mark your calendars for the grand release on June 15, 2023, as the gods themselves descend upon the online casino landscape, ready to unleash an epic gaming experience that you will never forget.
Latest Releases by BGaming
Take a look at the last 10 slot releases by the awesome software provider BGaming.