Big Wins/Jackpots
Game Providers
Industry News
Media Partners
New Slots
Press Releases
BGaming's Beast Band: A Wild Concert with Epic Wins
BGaming is about to take the iGaming world by storm with their latest creation, Beast Band - a rock concert-themed online slot that guarantees an electrifying experience. Players will be thrilled by the animated start page and the sight of five animal icons, led by a roaring lion vocalist, ready to rock the stage. The game features an adrenaline-pumping Disc Respin feature, where multipliers amp up the excitement both vertically and horizontally, while the Collect symbol tallies up discs for a chance to hit the impressive Mega Jackpot. With Beast Band VIP tickets acting as Scatters, players can trigger Free Spins and enjoy unlimited retriggers, ensuring the party never ends.
BGaming's Beast Band: A Wild Concert with Epic Wins
Media Partner
Rated 94.79/100%
281 Casinos | 162 Games
All Casinos
Slots
Table Games
Tournaments
BGaming is about to shake the virtual stage with a concert like no other! Get ready to bang your heads to the rhythm of Beast Band, an electrifying online slot that will leave you howling for more!
Picture this: the lights dim, the crowd roars with excitement, and the animated start page sets the stage for an unforgettable show. Five animal icons, led by the ferocious lion vocalist, are ready to unleash their wild melodies upon the reels, bringing a concert experience that'll make you feel like you're front row at the craziest rock festival ever!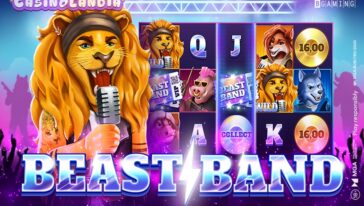 But don't let the spectacle distract you from the gameplay because the real magic happens when those reels spin! Enter the Disc Respin feature – a heart-pounding bonus that takes the chaos to another level. When six or more Disc symbols appear on the reels, get ready for a frenzy of multipliers applied both vertically and horizontally! It's like a wild mosh pit of wins, and you won't be able to resist joining the party!
Keep an eye out for the elusive green Collect symbol – the golden ticket to rock 'n' roll riches. This coveted disk tallies up the total number of Discs on the screen, and if you manage to collect a whopping 15 of them, get ready to be blown away by the Mega Jackpot! We're talking a mind-blowing x1000 win that'll send you crowd-surfing on a wave of cash!
And that's not all, fellow fans of the riff! Feast your eyes on the gleaming Beast Band VIP tickets, acting as Scatters on the reels. Land three of these shimmering beauties on reels 1, 3, or 5, and you've just scored yourself a backstage pass to Free Spins mode! Eight free spins are yours for the taking, and here's the best part – there's no limit to how many times you can retrigger the spins! It's like an encore that never ends!
Get ready to rock out with BGaming's Beast Band from the 20th of July! This concert extravaganza features the most popular animals you've ever seen in a casino game. From the lion frontman to the buffalo, wolf, warthog, and sly fox – this band has it all!
Yulia Aliakseeva, co-CPO at BGaming, couldn't contain her excitement, exclaiming, "We're cranking up the volume on creativity with Beast Band! Our game portfolio has always been a showstopper, and we know players love our catchy music and fun characters. With Beast Band, we're taking the party to a whole new level, and we can't wait to rock your world with this atmospheric gaming experience!"
So, grab your air guitars, and get ready for a concert that'll blow your mind! BGaming's Beast Band is here to deliver a high-octane performance, complete with electrifying music, wild animal icons, and a jackpot that'll have you howling with delight. Don't miss your chance to join the craziest casino concert ever – step into the spotlight and let the Beast Band show you how to rock the reels like never before!
Latest Releases by BGaming
Take a look at the last 10 slot releases by the awesome software provider BGaming.